El Doctor
In this dark animated comedy, set in Mexico in 1945, an irascible old doctor finds new perspective in a series of wildly imaginative visions.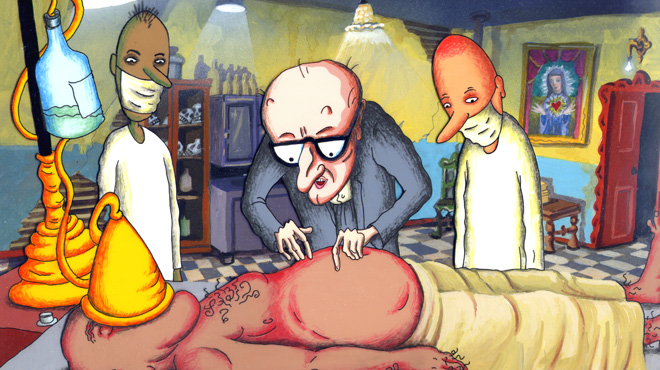 Premiere Date

September 1, 2006

Length

30 minutes

Funding Initiative

Open Call
Award
2006 Sin Fronteras Film Festival, New Mexico-Best Short Film
Award
2006 Huesca International Film Festival, Spain-Special Jury Prize
Award
2006 Ojai International Film Festival-Best Animated Film
Award
2006 Morelia International Film Festival-First Prize for Animation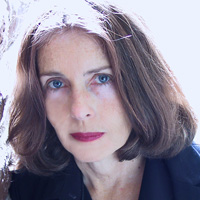 Producer/Director
Suzan Pitt
Suzan Pitt's works have pushed the boundaries of the animated film form, thriving in both the art world and the television, theatrical, and festival venues. She has had major exhibitions at the Whitney Museum of American Art, the Holly Solomon Gallery in New York, and the Stedlijk Museum in Amsterdam. She has designed two operas in Germany which were the… Show more first operas to include animated images for the stage (Damnation of Faust, and The Magic Flute). In addition, Pitt has created two large multi-media shows at the Venice Biennale and Harvard University. A retrospective of her animated films was presented at the Museum of Modern Art in New York in 2006 and her films have been presented at the over 100 venues around the world, including the Film Forum in New York, Ottawa International Animated Film Festival, Sundance Film Festival, Morelia International Film Festival in Mexico, and the Image Forum Film Festival in Tokyo, Japan. Pitt is the recipient of a Guggenheim Fellowship, a Fulbright Scholar Award, three National Endowment for the Arts Fellowships, and a Rockefeller Fellowship. Her work is in the permanent collection of the Walker Art Center, The Museum of Modern Art, and the Filmmuseum in Amsterdam. Her films have been broadcast on PBS, The Sundance Channel, Showtime, Channel Four in England, and PayTV in Germany. Show less
We fund untold stories for public media.
Learn more about funding opportunities with ITVS.
The Film
El Doctori s a dark animated poem set in a crumbling Mexican hospital about 1920. Inhabited by surreal characters including the man shot with one hundred holes, the girl who sprouted morning-glories, and the woman who thinks she is a horse, the Doctor prefers to drink. The Saint of Holes and a mysterious gargoyle rearrange the Doctor's fated demise and send him on a dark and twisted journey.
The film celebrates the nature of perception and the miraculous. Over five years in production the film was entirely hand painted by artists in Los Angeles and Mexico.
Topics