Estilo Hip Hop
Three hip-hop enthusiasts from Brazil, Chile, and Cuba firmly believe that hip hop can change the world.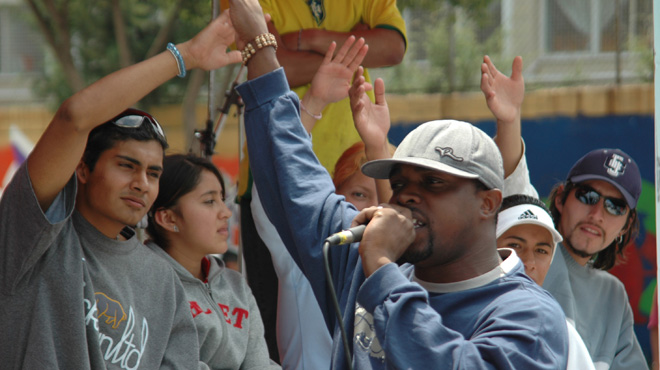 Series

Global Voices

Premiere Date

June 28, 2009

Length

60 minutes

Funding Initiative

Open Call
Producer/Director
Virgilio Bravo
Virgilio Bravo is an independent media-maker and activist. Over the past decade Bravo has initiated several unique projects aimed at creating responsible links between media and marginal communities. These initiatives include the Cell Block Project, a yearly media literacy and film series held at New York's Rikers Island Correctional Facility. In… Show more the late '90s Bravo also co-founded Stress magazine, the first lifestyles publication to fuse hip-hop and social activism. Bravo's community work has been recognized and supported by the Open Society Institute, the Union Square Awards, and the Ford Foundation. Currently, Bravo freelances as a media educator for the Global Action Project and as a writer for the recently launched MTV3 network. Show less
Producer/Director
Loira Limbal
Loira Limbal (Director/Producer) is an Afro-Latinx filmmaker interested in creating nuanced and revelatory portraits of the lives of working class women of color. Her first film, Estilo Hip Hop, was a co-production of ITVS and aired on PBS in 2009. She is currently the Vice President and Documentary Lab Director at Firelight Media. Firelight is… Show more committed to making films about pivotal movements and people in American history. Recent productions include: The Black Panthers: Vanguard of the Revolution, Freedom Summer, and Freedom Riders. Firelight's flagship program - the Documentary Lab - is a fellowship that provides mentorship, funding, and access to emerging filmmakers of color. Limbal is currently directing Through the Night, a feature documentary about a 24-hour daycare center in New Rochelle, NY. Additionally, she co-produces and helms the popular monthly #APartyCalledRosiePerez. For over fifteen years, Limbal has worked in the non-profit sector with a focus on cultural production, access, and representation. Limbal received a B.A. in History from Brown University and is a graduate of the Third World Newsreel's Film and Video Production Training Program. She lives in the Bronx with her two children. Show less
We fund untold stories for public media.
Learn more about funding opportunities with ITVS.
The Film
Estilo Hip Hop chronicles the lives of three hip-hop enthusiasts from Brazil, Chile, and Cuba who firmly believe that hip-hop can change the world. These three inspirational leaders mobilize young people to become politically active. However as the stakes assume greater risks, the leaders are faced with challenges and have to make life-altering decisions that ultimately impact the course of their lives and of the hip-hop movement.
Topics