Every Mother's Son
Three women from vastly different backgrounds unite to protest the deaths of their sons, all of whom died suspiciously in custody of the NYPD.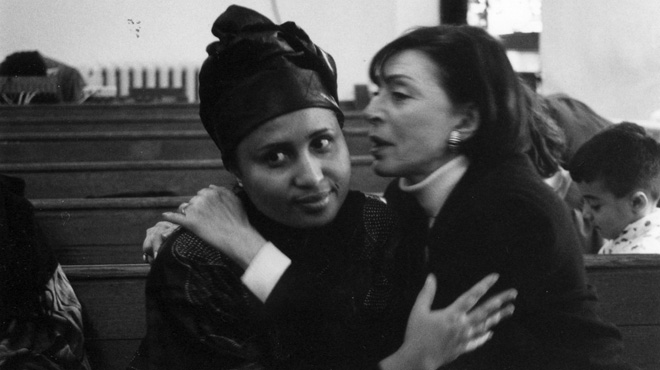 Series

POV

Premiere Date

August 17, 2004

Length

60 minutes

Funding Initiative

Open Call
Award
2004 Tribeca Film Festival-Audience Choice Award
Producer
Tami
Gold
Tami Gold launched her career at the age of 20 as part of the Newsreel Film Collective of the anti-Vietnam War movement. She has since produced and directed more than 17 social-issue films and television broadcasts. Her credits include the award-winning Another Brother, about an African-American Vietnam veteran, Out at Work (with Kelly Anderson), which… Show more premiered at the Sundance Film Festival and was re-cut for broadcast on HBO, Making a Killing: Philip Morris, Kraft, and Global Tobacco Addiction (with Kelly Anderson), and Juggling Gender: Politics, Sex, and Identity. In 1996, Gold directed her first narrative, the short film Emily & Gitta. She is the recipient of fellowships from the Guggenheim Foundation, the Rockefeller Foundation, the New York State Council on the Arts, and the American Film Institute. She also has received the Excellence in the Arts award from the Manhattan Borough President. Since 1987, Gold has been a professor in the department of Film and Media Studies at Hunter College in New York. Show less
Producer
Kelly
Anderson
Kelly Anderson is a Brooklyn-based filmmaker whose documentaries include My Brooklyn (America ReFramed), Every Mother's Son (POV/ITVS), and Out At Work (HBO). Her work has received the Tribeca Audience Award, a GLAAD Award, and a national Emmy nomination. She currently chairs the Department of Film and Media Studies at Hunter College.
We fund untold stories for public media.
Learn more about funding opportunities with ITVS.
The Film
In the late 1990s, three victims of police brutality made headlines around the country: Amadou Diallo, the young West African man whose killing sparked intense public protest; Anthony Baez, killed in an illegal choke-hold; and Gary (Gidone) Busch, a Hasidic Jew shot and killed outside his Brooklyn home. Every Mother's Son profiles three New York mothers who unexpectedly find themselves united to seek justice and transform their grief into an opportunity for profound social change.
It was Iris Baez, who had become a veteran activist since her son Anthony's death, who approached Amadou's mother, Kadiatou, and Gary's mother, Doris, after their sons were killed. As a Puerto Rican woman from the Bronx, a West African woman who relocated to New York, and a Jewish woman from Long Island, they made an unlikely but powerful team.
The grassroots movement they inspired in New York is challenging the militarization of law enforcement and the erosions of constitutional protections. When police kill someone under suspicious circumstances, the mothers assemble to help the family deal with its grief and to seek the truth and accountability. The mothers have also become advocates for police reforms, including better training and more citizen oversight, and have connected to a larger national movement against police brutality.
Topics