A Family Undertaking
The home funeral, a growing new trend in America's approach to death, reveals collective attitudes toward life's only inevitability.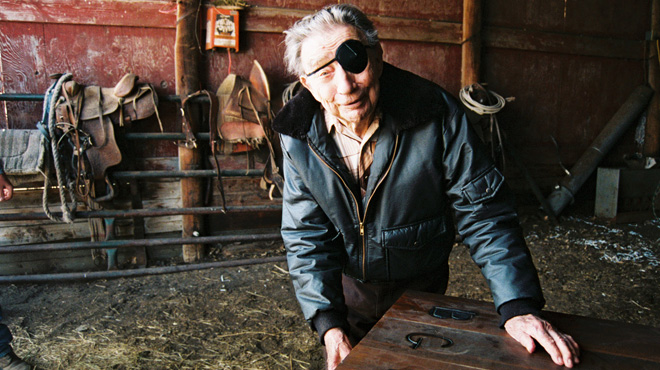 Series

POV, True Stories

Premiere Date

August 3, 2004

Length

60 minutes

Funding Initiative

Open Call
Producer/Director
Elizabeth Westrate
Elizabeth Westrate is currently producing and directing a film for the humanitarian organization Heifer International. Previous producing credits include pieces for the Sundance Channel series Aftereffect, 24 Frame News, and Right Now! At the Sundance Film Festival. Westrate was the associate producer of the HBO production of Eve Ensler's The Vagina Monologues,… Show more which aired in 2002 in conjunction with V-Day, a global movement to end violence against girls and women. She was also the associate producer of Our House: A Very Real Documentary About Kids of Gay and Lesbian Parents, an ITVS production that was broadcast on public television in 2000. Westrate earlier served as associate producer for the Simon & Goodman Picture Company, where she received a CableACE Award for Best Documentary Special for Heart of a Child. Other credits include HBO's 27th and Prospect: One Year in the Fight Against Drugs, American Experience's The Telephone, and, as post-production coordinator, Buckminster Fuller: Thinking Out Loud. Performing arts projects include The Paul Taylor Dance Company Repertory Preservation Project, for which Ms. Westrate was both associate producer and editor. Elizabeth Westrate has served in various production positions on many feature films, including Independence Day, The Basketball Diaries, and Jeffrey. She received a Bachelor of Fine Arts in Film and Television Production from the Tisch School of the Arts at New York University in 1992, and is the owner of Five Spot Films, a documentary production company in New York City. Show less
We fund untold stories for public media.
Learn more about funding opportunities with ITVS.
The Film
Most funerals today are part of a multimillion-dollar industry run by professionals. This increased reliance on mortuaries has alienated Americans from life's only inevitability — death. A Family Undertaking explores the growing home funeral movement by following several families in their most intimate moments as they reclaim the end of life, forgoing a typical mortuary funeral to care for their loved ones at home. Far from being a radical innovation, keeping funeral rites in the family or among friends is exactly how death was handled for most of pre-20th century America.A Family Undertaking makes clear that the heart of the home funeral movement is the desire to rescue funerals from the impersonality of a mass-market industry, and to reshape them according to personal beliefs or family and community traditions. The film introduces us to individuals like the Carr family of South Dakota, preparing for the death of 90-year-old family patriarch Bernard, and Anne Stuart and Dwight Caswell of California, preparing for the end of Anne's struggle with terminal cancer. Through their stories we see that "hands-on" care for the dead by family members, including children, can aid in grieving, bring a sense of fulfillment, and help loved ones to grasp the reality of a death. Their home funerals are remarkable documents of death made intimate, meaningful, and even joyful.
Topics