Father Roy: Inside the School of Assassins
A Vietnam veteran and Jesuit priest has dedicated his life to shutting down the School of the America's at Fort Benning in Georgia.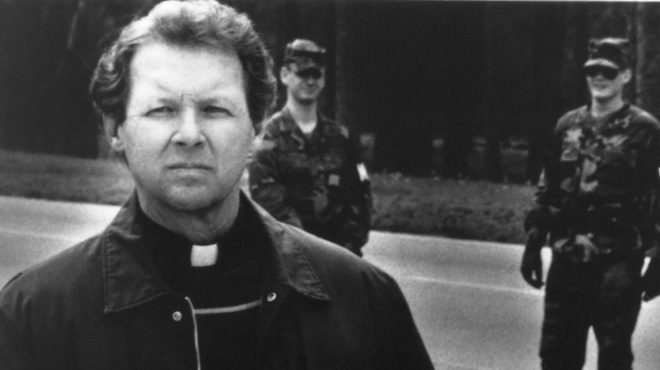 Series

Global Voices

Premiere Date

March 1, 1998

Length

60 minutes

Funding Initiative

Open Call
Award
1998 Havana International Film Festival-Coral Award
Award
1998 Columbus International Film & Video Festival-Chris Award, Bronze Plaque
Award
1998 Central Florida Film & Video Festival-First Place, Documentaries
Award
1999 National Educational Media Network-Bronze Apple Award
Producer
Robert Richter
Robert Richter was threatened with death if he revealed the identity of one of the sources for his documentary Father Roy: Inside the School of Assassins. Richter has three Academy Award nominations for best documentary short, and won numerous other awards and accolades including Emmy Awards, three duPont-Columbia Broadcast Journalism Awards, the… Show more Peabody Award, and several national and international film festival prizes. Richter has produced and directed for PBS, CBS, NBC, ABC as well as many overseas television outlets. He is one of the few producers from the famed Edward R. Murrow-Fred Friendly CBS Reports unit still actively producing documentaries. His independent series on globalization policies include: For Export Only: Pesticides and Pills; Hungry for Profit; Can Tropical Rainforests be Saved?; The Money Lenders; and Increase and Multiply? In 1989, he was honored with a Global 500 Award from the United Nations Environment Program for his broad range of environmental productions, the only independent producer in the world to be so recognized. Previously for PBS, he produced Ben Spock — Baby Doctor; Who Shot President Kennedy; A Plague on Our Children; and Incident at Browns Ferry for NOVA. Show less
We fund untold stories for public media.
Learn more about funding opportunities with ITVS.
The Film
The Western Hemisphere Institute for Security and Cooperation (formerly the U.S. Army School of the Americas) in Fort Benning, Georgia, according to one U.S. Congressman, has "the nefarious distinction of being the place in the United States where the worst human rights abusers in the Western Hemisphere come to learn military tactics and to teach them." Father Roy combines explosive, previously unreported information about torture training at Fort Benning with the extraordinary life and experiences of Father Roy Bourgeois, the daring activist who is leading the campaign to close down the school.
Topics