The Faubourg Tremé: The Untold Story of Black New Orleans
Nestled at the edge of New Orleans' fabled French Quarter, Faubourg Tremé is one of America's oldest African American neighborhoods.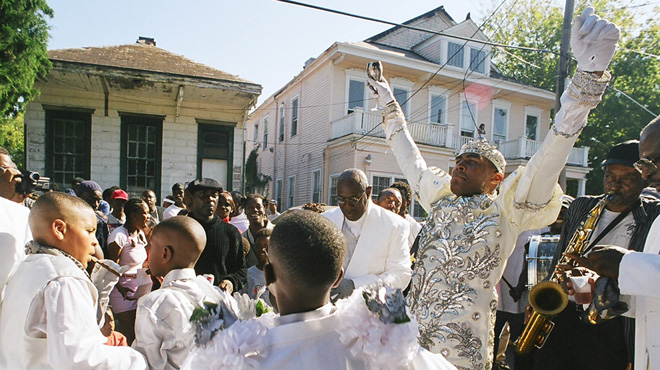 Series

PBS Plus Presentation

Premiere Date

February 1, 2009

Length

60 minutes

Funding Initiative

Open Call
Award
2008 SFFilm Festival-Golden Gate Award, Best Bay Area Documentary
Award
2008 Society for Visual Anthropology Film and Video Festival-Best Documentary
Producer/Director
Dawn
Logsdon
We fund untold stories for public media.
Learn more about funding opportunities with ITVS.
The Film
Faubourg Tremé is considered the oldest black neighborhood in America, the origin of the southern civil rights movement, and the birthplace of jazz. Long before Hurricane Katrina, two native New Orleanians, one black and one white — writer Lolis Eric Elie and filmmaker Dawn Logsdon — began documenting the rich, living culture of this historic district. Miraculously, their tapes survived the disaster unscathed. The completed film, Faubourg Tremé: The Untold Story of Black New Orleans, which critics have hailed as "devastating," "charming," and "revelatory," brims with unearthed historical nuggets. Who knew that in the early 1800s while most African Americans were toiling on plantations, free black people in Tremé were publishing poetry and conducting symphonies? Who knew that long before Rosa Parks, Tremé leaders organized sit-ins and protests that successfully desegregated the city's streetcars and schools? Who knew that jazz, New Orleans' greatest gift to America, was born from the embers of this first American civil rights movement? Elie, a New Orleans newspaperman, takes us on a tour of his city — in what evolves from a reflection on the relevance of history into a love letter to the storied New Orleans neighborhood Faubourg Tremé.
Topics