Figures of Speech
Regular people tell personal stories while they're overlain with transmogrifying graphics manipulated by a different artist.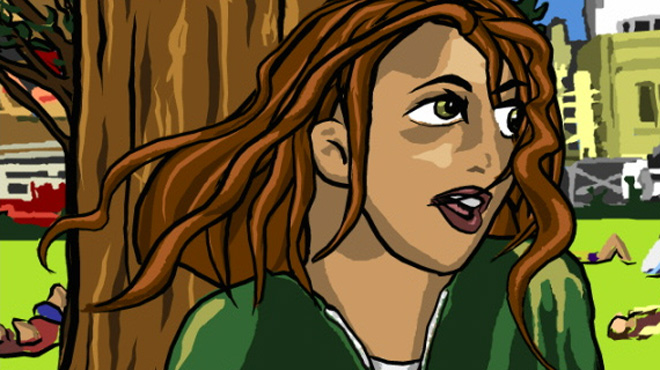 Premiere Date

February 1, 2001

Length

30 minutes

Funding Initiative

Series and Special Projects
Producer
Tommy
Pallotta
Originally from Houston, Texas, Tommy Pallotta moved to Austin and graduated with a degree in philosophy. Since his first feature film, The High Road, Pallotta has worked exclusively in video and digital formats, producing the award-winning shorts Roadhead and Snack and Drink. He collaborated with digital artist Bob Sabiston and director Richard… Show more Linklater on the acclaimed feature film Waking Life, which premiered at the Sundance Film Festival in 2001. Pallotta is co-founder with Linklater of the Conduit Digital Festival. Show less
Producer
Bob
Sabiston
Bob Sabiston studied at MIT Media Laboratory, receiving a bachelor of science and a masters degree in computer graphics research. Both visual arts and computer programming figure prominently in his short films including God's Little Monkey, Roadhead, and Snack and Drink. His films have appeared in numerous festivals and have received awards,… Show more including Austria's 1996 Prix Ars Electronica Golden Nica for God's Little Monkey. Sabiston collaborated with Tommy Pallotta and director Richard Linklater on the acclaimed feature film Waking Life, which premiered at the Sundance Film Festival in 2001. Show less
We fund untold stories for public media.
Learn more about funding opportunities with ITVS.
The Film
Figures of Speech is a 30-minute compilation of short interstitials that uses pioneering animation techniques called "interpolated rotoscoping." These digitally animated, documentary-style interviews focus on how gesture, facial expression, and other body movements combine to communicate personality. Using new software, Figures of Speech turns real people interviewed for parts in a short film into cartoons, infusing their distinct personalities into animated characters. The result is a variation on verité documentary, with a hand-drawn aesthetic. The particular attention paid to audio and the unrehearsed nature of the interviews adds to the documentary style of these playful spots.
Topics