For Better or For Worse
Five couples still find romance in the most unexpected places, and still argue about the smallest things.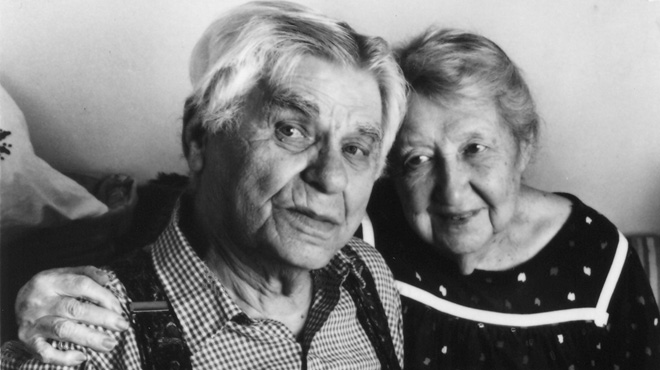 Series

POV, True Stories

Premiere Date

July 13, 1993

Length

60 minutes

Funding Initiative

Open Call
Award
1993 Retirement Research Foundation/Center for New Television-National Media OWL First Prize for Independent Documentary
Award
1993 National Educational Media Network-Gold Apple
Award
1993 CINE/Eastman Kodak Funding Panel-Golden Eagle Award
Award
1993 San Francisco International Film Festival-Golden Gate Award
Nominated
1994 Academy Awards-Best Documentary Feature
Producer
David Collier
David Collier has been a figure in the film and video world since 1985. Straight out of college, David directed and produced For Better or For Worse, a film that explores the lives and relationships of five feisty couples married for 50 years or longer. It earned him several awards, including an Academy Award nomination, and brought David a wonderful range of… Show more documentary jobs for PBS, BBC, Discovery, MTV, and Animal Planet. He has also, over the years, been fortunate to work with a wide-spectrum of corporate clients like Adobe, Adidas, Gap, Clif Bar, Apple, LeapFrog, and Microsoft. Overall, David sees his work as a license to be curious. He is the founder of Studio B Films. Show less
We fund untold stories for public media.
Learn more about funding opportunities with ITVS.
The Film
For Better or For Worse is a feature-length documentary that explores the lives and relationships of five feisty couples married for fifty years or longer. The film takes the viewer on an intimate journey as the couples discuss the issues that inform every long-term relationship. Drawing on rich caches of wisdom and experience, the couples recount colorful stories of their shared journeys, from living room jazz jam sessions, to the Gay Pride parade in New York, to the backwoods of Northern California. The couples's comments and stories, tinged with both joy and sorrow, are often eye-opening, remarkably frank, and surprisingly open-minded. For Better or For Worse was nominated for an Academy Award.
Topics