The Great American Foot Race
Andy Payne, a Cherokee who won the Great American Foot Race in 1928, triumphed not because of mystical power but because he believed in himself.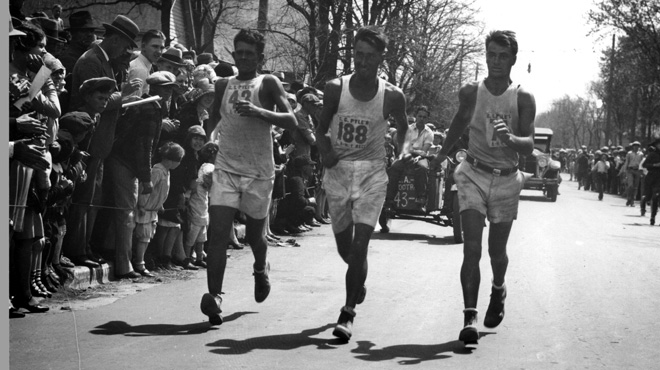 Series

PBS Plus Presentation

Premiere Date

November 1, 2002

Length

60 minutes

Funding Initiative

Series and Special Projects
Producer
Dan
Bigbee
Dan Bigbee, Jr. is Comanche Indian from Oklahoma. He is producer, director, editor, videographer, writer, and engineer for the company. Dan spent four years as a young boy in Ethiopia, where his father taught at the University at Alemaya. Upon returning to the U.S., he finished junior high in Maryland, and was accepted at the Institute of American Indian… Show more Arts in Santa Fe, NM, where he completed his high school diploma. Dan received his A.A. in Fine Arts from Bacone College in Muskogee, Oklahoma. He has additional training from the U. S. Navy Photography School and has worked for more than 16 years in and around various media including television, radio, and video. Show less
Producer
Lily
Shangreaux
Lily E. Shangreaux is Oglala Lakota from South Dakota. Born and raised on the Pine Ridge Reservation in South Dakota, Lily was one of the first women admitted as a freshman, in 1970, to Princeton University. She graduated with a B.A. in psychology. Lily began her video career in 1993, when she and Dan Bigbee founded BIG Productions. Since the founding of the… Show more company Lily has written and produced most of the company's projects. Prior to establishing the company, Lily worked for the Institute of American Indian Arts in Santa Fe, NM, as development associate. Show less
We fund untold stories for public media.
Learn more about funding opportunities with ITVS.
The Film
The Great American Foot Race documents an extraordinary 3,422-mile cross-country trek in 1928, won by 19-year-old Cherokee Indian Andy Payne, the shy son of an Oklahoma farmer who entered the race because "I just thought I could do it."
Dubbed "The Bunion Derby" by sports writers of the day, this was a grueling competition in which 199 runners attempted to cross the United States. Facing scorching temperatures, intermittent supplies of food and water, competing without modern running shoes or equipment, only 55 men finished the 84-day race from Los Angeles to New York. The film not only describes Payne's incredible achievement, but tells the story of a race that was filled with drama, hucksterism, and even the early beginnings of corporate sponsorship of amateur athletic events.
One of the first roads to be designated a U.S. Highway was Route 66, running from Chicago to Los Angeles. Cy Avery of Tulsa, known as the Father of Route 66, and a member of the American Association of State Highway Officials, wanted to promote the fact that a network of roads had been created to link the U.S. from coast to coast. To calm people's fears about driving long distances, the idea of a foot race across the country was born.
The man chosen to organize and promote the foot race was Charles C. Pyle, the P.T. Barnum of sports promotion. When a $25,000 grand prize was announced, men from all over the world, including prominent long-distance runners from Finland, South Africa, and Canada signed up. Others who entered were unknown immigrants whose heads were filled with dreams of fame and fortune. Andy Payne's family borrowed $125 for Andy to enter the race and he headed off for the training camp in Los Angeles.
In the end he triumphed in the face of overwhelming odds, simply because he believed in himself.
Topics