Great Wall Across the Yangtze
Engineers are constructing the world's largest dam across the Yangtze River. Critics fear the dam will be a social and environmental disaster.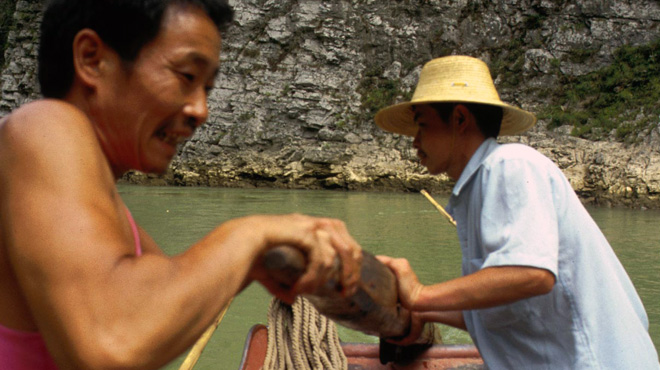 Series

Global Voices

Premiere Date

October 3, 2000

Length

60 minutes

Funding Initiative

Series and Special Projects
Award
2000 Berkeley Video and Film Festival-Grand Festival Award, Environmental Documentary category
Producer
Ellen Perry
Filmmaker Ellen Perry has traveled extensively throughout Europe, Asia, and the western Pacific islands, documenting the land and people through still photography and video. Perry holds a degree in cinema/television production from the University of Southern California, and has produced, directed, photographed, and edited numerous narrative… Show more shorts including Keepers of the Flame, Lost Identity, and The Cycle. She has also art directed several films including Sugared Peas, which screened at First Look. She has published film criticism articles and she is currently working on a feature screenplay. Great Wall Across the Yangtze was her first documentary production. Show less
We fund untold stories for public media.
Learn more about funding opportunities with ITVS.
The Film
Against the backdrop of China's stunning Three Gorges, Great Wall Across the Yangtze tells the story of a powerful river that for centuries has helped shape the evolution of Chinese civilization — but today faces its greatest challenge. In 1994, the People's Republic of China approved the construction of the world's largest dam and hydroelectric power plant across this legendary river. Soon afterwards, voices of outrage echoed through the halls of the National People's Congress. Not since the protest of 1989 has the country been so divided on an issue.
Made without government authorization, Great Wall Across the Yangtze takes you into the heart of China and explores the controversy behind the dam project as told by the people most affected — the engineer, who believes in his country and its urgent need for new sources of power and flood control; the people, who are being forcibly relocated to make way for the immense reservoir; the biologist, who works to find ways to save the Baiji River dolphin from extinction; and the archaeologist, who attempts to recover ancient artifacts before time runs out.
Topics