The Invisible War
The epidemic of rape within the military is one of the United States's most shameful and best-kept secrets.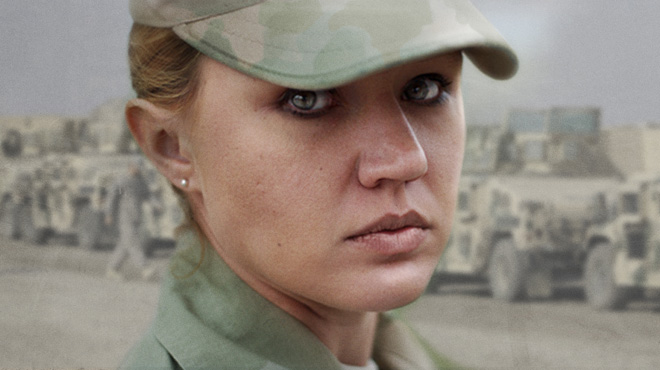 Series

Independent Lens

Premiere Date

May 13, 2013

Length

90 minutes

Funding Initiative

Series and Special Projects
Award
2012 Sundance Film Festival-Audience Award for Best Documentary
Nominated
2013 Academy Awards-Best Documentary Feature
Award
2013 Independent Spirit Awards-Best Documentary
Award
2013 News and Documentary Emmy Awards-Best Documentary
Award
2013 News and Documentary Emmy Awards-Outstanding Investigative Journalism—Long Form
Award
2013 Peabody Awards-George Foster Peabody Award
Producer/Director
Kirby Dick
Kirby Dick is an Academy and Emmy Award-nominated documentary director. His most recent film, The Invisible War, a groundbreaking investigation into the epidemic of rape within the US armed forces, the institutions that perpetuate and cover up its existence, and its profound personal and social consequences. The film won the Audience Award at the 2012… Show more Sundance Film Festival. His previous film, Outrage, which was nominated for an Emmy and released by Magnolia Pictures, is a searing indictment of the hypocrisy of powerful closeted politicians and the political and media institutions that protect them. In 2006 he directed This Film is Not Yet Rated, released by IFC Films. A breakthrough expose of the highly secretive MPAA film ratings system, the film compelled the MPAA to make long overdue changes in the way it rates films. Dick's prior film, Twist of Faith, is the story of a man confronting the trauma of his past sexual abuse by a Catholic priest. Produced for HBO, it received a 2004 Academy Award nomination for Best Documentary Feature. Dick's other films include, Derrida, a complex portrait of the world-renowned French philosopher Jacques Derrida, which won the Golden Gate Award at the San Francisco Film Festival; and Sick: The Life and Death of Bob Flanagan, Supermasochist, which won the Special Jury Prize at the Sundance Film Festival and the Grand Prize at the Los Angeles Film Festival. Show less
Producer
Amy Ziering
Amy Ziering is an award-winning and Emmy-nominated documentary producer and director. Her recent film, The Invisible War, a groundbreaking investigation into the epidemic of rape in the U.S. military, won the Audience Award at the 2012 Sundance Film Festival. Her previous film, Outrage, for which she received an Emmy nomination for Outstanding… Show more Investigative Journalism, was distributed by Magnolia Pictures and had its television premiere on HBO. Ziering also produced The Memory Thief, which was a New York Times critics' pick and won several festival awards. Prior to this Ziering co-directed and produced Derrida, which premiered at the Sundance Film Festival, won the Golden Gate award at the San Francisco Film Festival, was released theatrically by Zeitgeist Films and features an original score by Oscar-winning composer Ryuichi Sakamoto. Ziering's first film, Richard Cohen's critically acclaimed Taylor's Campaign, was a documentary about Ron Taylor, a homeless person who ran for a seat on the Santa Monica City Council. Ziering graduated Phi Beta Kappa and Summa Cum Laude from Amherst College and has two Masters degrees from Yale University. A student of Jacques Derrida, Ziering taught at Yale during her graduate studies there. She is an active mentor to several Youths-In-Transition (ex-foster children who have "aged out" of the system). She initiated and runs the ongoing "Films 4 Change" activist film series which features first-run documentaries followed by panel discussions with notable field experts. Show less
We fund untold stories for public media.
Learn more about funding opportunities with ITVS.
The Film
The Invisible War is a groundbreaking investigative documentary about one of America's most shameful and best kept secrets: the epidemic of rape within the U.S. military. The film paints a startling picture of the extent of the problem — today, a female soldier in combat zones is more likely to be raped by a fellow soldier than killed by enemy fire. The Department of Defense estimates there were a staggering 22,800 violent sex crimes in the military in 2011. Among all active-duty female soldiers, 20 percent are sexually assaulted. Female soldiers aged 18 to 21 accounted for more than half of the victims.
Focusing on the powerfully emotional stories of rape victims, The Invisible War exposes the systemic cover-up of military sex crimes, chronicling the women's struggles to rebuild their lives and fight for justice. It also features hard-hitting interviews with high- ranking military officials and members of Congress that reveal the perfect storm of conditions that exist for rape in the military, its long-hidden history, and what can be done to bring about much-needed change.
At the core of the film are interviews with the rape survivors themselves — people like Kori Cioca, who was beaten and raped by her supervisor in the U.S. Coast Guard; Ariana Klay, a Marine who served in Iraq before being raped by a senior officer and his friend, then threatened with death; and Trina McDonald who was drugged and raped repeatedly by military policemen on her remote Naval station in Adak, Alaska. And it isn't just women; according to one study's estimate, one percent of men in the military — nearly 20,000 men — were sexually assaulted in 2009.
And while rape victims in the civilian world can turn to a police force and judicial system for help and justice, rape victims in the military must turn to their commanders — a move that is all too often met with foot-dragging at best, and reprisals at worst. Many rape victims find themselves forced to choose between speaking up and keeping their careers. Little wonder that only 8 percent of military sexual assault cases are prosecuted.
Since The Invisible War premiered at Sundance, the film has been circulating through the highest levels of the Pentagon and the Obama administration. Secretary of Defense Leon Panetta watched The Invisible War on April 14, 2012. Two days later, he directed military commanders to hand over all sexual assault investigations to a higher-ranking colonel. At the same time, Panetta announced that each branch of the armed forces would establish a Special Victims Unit.
Topics