Jesus Politics, the Bible, & the Ballot
Israeli Ilan Ziv goes on a 2,000-mile journey to discover the relationship between faith and politics during the 2008 presidential primary elections.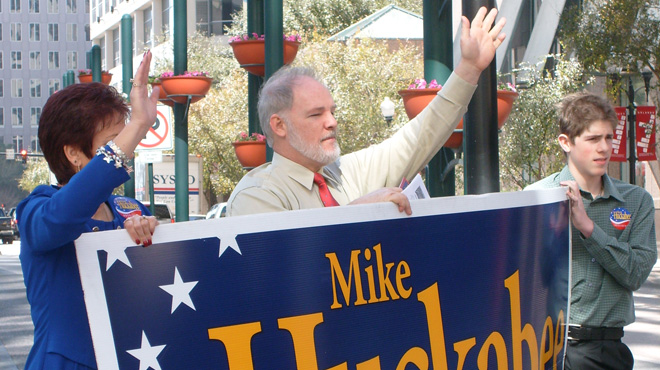 Premiere Date

January 1, 2009

Length

90 minutes

Funding Initiative

Series and Special Projects
Producer/Director
ilan
Ziv
Ilan Ziv was born in Israel in 1950 and came to the United States in 1974. Ilan Ziv is a graduate of New York University film school, and in 1978 he co-produced New York's first Middle East Film Festival. That same year he founded Icarus Films, an educational film distribution company, which he left in 1980 in order to devote himself to making documentary films,… Show more and since then he has directed dozens of documentaries dealing broadly with issues of human rights and investigations of contemporary history. His most recent film was Six Days, 1967: The War that changed the Middle East. The film opened theatrically in NY, and was broadcast in June around the world on PBS (US), ARTE (France and Germany) , RAI (Italy), Radio Canada (Canada), Channel 10 (Israel), SBS (Australia), and many other countries. His other critically acclaimed films have included On the Edge of Peace (1995), Tango of Slaves (1994), and Human Weapon (2002). Accolades include the Prix Europa (Europe's highest television award), the Silver Nymph and International Jury Award in Monte Carlo, and Cine Eagle in the United States. Show less
Producer
Serge
Gordey
Serge Gordey was the producer of Human Weapon (Prix Europa Special Commendation [2002] and Junction (First Prize in Haifa Film Festival), and co-produced Six Days, 1967. He co-produced Safe Haven, the groundbreaking investigation of the role of the United Nations in the fall of the Bosnian town of Srebrenica, with Ilan Ziv . The program received numerous… Show more awards, among them the Dutch Oscar and the Silver Nymph in Monte Carlo's prestigious television Festival. Gordey was one of the the main producers of the innovative and award winning series Street in Sarajevo— an intimate daily portrait of a street in Sarajevo under siege, broadcast daily on the BBC and French TV. The series received the BAFTA Award. Gordey was the European executive producer of Oligarchs, a film from Alex Gentelev, (first Prize at Banff and the Europa Prize for 2006),Hotel Palestine (Grand Prix of German Television, 2003), and Our Friend Saddam by Antonia Rados (special commendation Figra 2004 and Romy Schneider Austria 2003) After heading investigative and current affairs projects in Point du Jour (France), Gordey joined an energetic young company called Bo Travail!, where he has been developing a new documentary department for France 5 and Canal Plus, among others. Show less
We fund untold stories for public media.
Learn more about funding opportunities with ITVS.
The Film
Despite a long tradition of separating church from state, America's religious communities and grassroots organizations are having an increasingly powerful role in the political process. In Jesus Politics, the Bible, & the Ballot, Israeli filmmaker Ilan Ziv goes on a 2,000-mile journey across the country stopping at isolated towns and farms, rural churches, and mosques to discover the complex relationship between faith and politics during the 2008 presidential primary elections.
Topics