Miss Navajo
Pageant contestants are in their quest for the Miss Navajo Nation crown in a unique celebration of womanhood.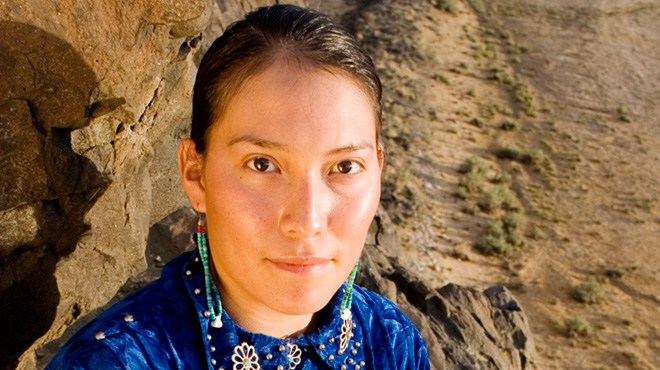 Series

Independent Lens

Premiere Date

November 13, 2007

Length

60 minutes

Funding Initiative

Open Call
Award
2007 Traverse City Film Festival-Special Founders Prize
Producer/Director
Billy Luther
Billy Luther (Navajo, Hopi and Laguna Pueblo) director/producer of the award winning documentary, Miss Navajo, which premiered at the 2007 Sundance Film Festival and aired nationally on PBS' Independent Lens that same year. He studied film at Hampshire College and worked on various projects for the New York City based Smithsonian National Museum of the… Show more American Indian's Film & Video Center. His second documentary feature Grab premiered at the 2011 Sundance Film Festival and aired nationally on Public Television that same year. He co-directed the Native America episode for the MTV documentary series Rebel Music– which was MTV's highest viewed/shared content in their history of online programming. His latest short documentary film Red Lake had its world premiere at the 2016 Los Angeles Film Festival and was nominated for Best Documentary Short at the 2016 International Documentary Association Awards. Luther's films have also screened with the American Documentary Showcase, a collaborative program with The State Department and US Embassies around the world. He served on the Sundance Institute Alumni Advisory Board and the International Documentary Association Board of Directors. In 2018, Luther will launch his web-series alter-NATIVE for PBS' IndieLens StoryCast exploring the world of Native Fashion designer, Bethany Yellowtail. Show less
We fund untold stories for public media.
Learn more about funding opportunities with ITVS.
The Film
For the past 50 years, the Miss Navajo Nation pageant has celebrated Navajo women and traditional values, language, and inner beauty. Held over a five-day period at the annual Navajo Nation Fair, contestants are required to showcase skills that are crucial to Navajo daily life, including sheep butchering, frybread making and rug weaving. Through interviews with new and previous pageant contestants, Miss Navajo reveals the importance of cultural preservation and the meaning of being a woman in Navajo culture.
Crystal Frazier, a 21-year-old Navajo woman, lives on the reservation in Table Mesa, New Mexico. Living in a house without running water, Crystal helps care for her family's livestock, makes a weekly trip to the well for water, and does a share of the cooking. A tomboy and former high school basketball champ, Crystal is confronted with a new set of challenges when she decides to compete in the 2005–06 Miss Navajo pageant. She acknowledges her own shyness and says that participating in the Miss Navajo contest would probably be a good experience. Miss Navajo follows Crystal's journey leading up to the competition, while former Miss Navajos share their own memories of the pageant and what it meant to them. Each previously crowned winner also experienced life on the reservation and faced the challenges of working as a leader in the preservation of their culture.
Conceived as a "celebration of womanhood" by filmmaker Billy Luther — whose mother, Sarah Johnson Luther, was Miss Navajo Nation 1966–67 — the film offers a different take on what it means to be beautiful, exploring tradition in Diné, or Navajo, culture through one woman's quest for the Miss Navajo Nation crown.
Topics