No Más Bebés
At a maternity ward in the 1960s and 1970s, Mexican-American mothers were frequently pushed into tubal ligations in the late stages of labor.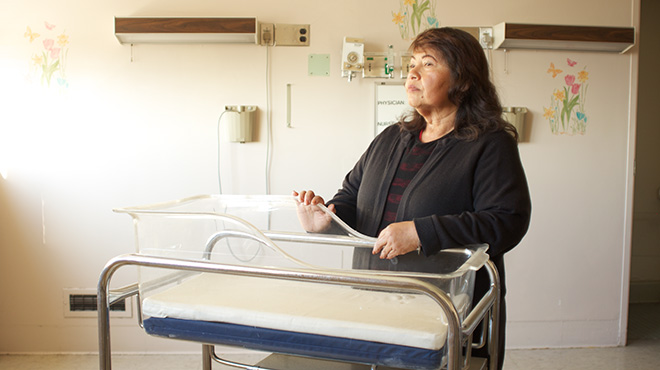 Series

Independent Lens

Premiere Date

February 1, 2016

Length

60 minutes

Funding Initiative

Open Call
Nominated
2016 News and Documentary Emmy Awards-Best Historical Documentary
Producer/Director
Renee
Tajima-Peña
Tajima-Peña is an Academy Award-nominated filmmaker whose directing credits include the nationally televised documentaries, Calavera Highway (PBS), "The Mexico Story" of The New Americans series (PBS), My Journey Home (PBS), Labor Women (PBS), My America...or Honk if You Love Buddha (PBS), The Last Beat Movie (Sundance Channel), The Best Hotel on Skid Row… Show more (HBO), and Who Killed Vincent Chin? (PBS). Her films have premiered at festivals around the world including Cannes, San Francisco, Sundance, Toronto, and the Whitney Biennial. Among her honors are a Peabody Award, a duPont-Columbia Award, the Alpert Award in the Arts for Film/Video, International Documentary Association Achievement Award, and two Rockefeller Foundation fellowships in documentary film. Tajima-Peña is a USA Broad Fellow in media arts, and a professor and graduate director of the social documentation program at the University of California, Santa Cruz.     Show less
Producer
Virginia
Espino
The idea for ¿Más Bebés? originated with Virginia Espino's original research on the coercive sterilizations of Mexican-origin women at Los Angeles County-USC Medical Center. Her primary research and interviews were published in Las Obreras: Chicana Politics of Work and Family, and Latinas in the United States: A Historical Encyclopedia. Espino has… Show more been the recipient of a Woodrow Wilson Dissertation Grant in Women's Health, Ford Dissertation Fellowship for Minorities, Smithsonian Institution Minority Fellowship, Smithsonian Institution and the Inter-University Program for Latino Research Fellowship, and an Irvine Fellowship. She has served as a California Commissioner on the Commission for Sex Equity, Los Angeles, and a member of the Chicano/Latino Education Committee, Los Angeles. She is currently program coordinator for Latina & Latino History at the UCLA Center for Oral History Research. Show less
We fund untold stories for public media.
Learn more about funding opportunities with ITVS.
The Film
No Más Bebés investigates the history of Mexican-American women who were coercively sterilized at Los Angeles County-USC Medical Center during the late 1960s and 1970s. Many of the mothers spoke no English, and were pushed into tubal ligations in the late stages of labor — often based on little more than the question "More babies?" The program follows a group of mothers, young Chicana lawyers, and a whistle-blowing doctor who stood up to powerful institutions in the name of justice.
Topics