A Panther in Africa
In the 1960s, Pete O'Neal founded the Kansas City chapter of the Black Panther Party. In 1970, he fled the country for exile in Africa.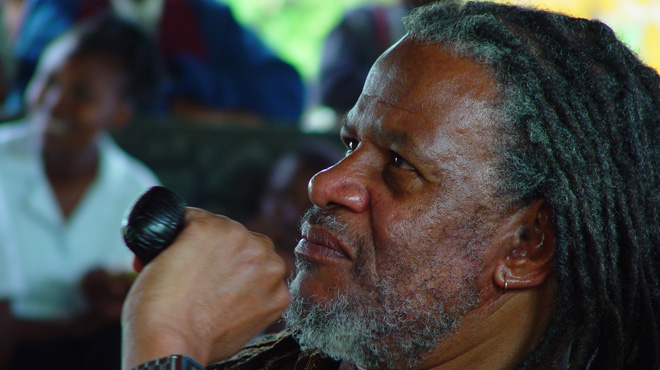 Series

POV, Global Voices

Premiere Date

September 21, 2004

Length

90 minutes

Funding Initiative

Open Call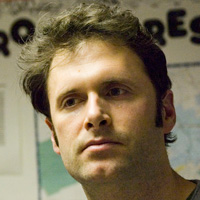 Producer/Director
Aaron
Matthews
Aaron Matthews grew up in Brooklyn and graduated from Wesleyan University with a degree in English literature. His award-winning documentaries include the ITVS program A Panther in Africa, which was broadcast on P.O.V. in 2004, received a Cine Golden Eagle Award and won best documentary at the St. Louis International Film Festival. His feature-length… Show more documentary My American Girls was broadcast on P.O.V. and the Discovery Times Channel, won the Best Documentary Award at the San Francisco Latino Film Festival and aired throughout Europe and Latin America. Matthews' previous films Taddo and The Art of the Moment played at numerous festivals around the country and have been broadcast on the History Channel and public television. Matthews has received grants from the Sundance Institute, the Jerome Foundation the New York State Council on the Arts, Latino Public Broadcasting, and the Brooklyn Arts Council. Show less
We fund untold stories for public media.
Learn more about funding opportunities with ITVS.
The Film
Pete O'Neal, the militantly outspoken founder of the Kansas City chapter of the Black Panther Party, was eating breakfast on October 30, 1969 when four A.T.F. agents broke down his door and arrested him for transporting a gun across state lines. One year later, he was convicted of the charge, which he has always insisted was trumped up as part of the federal government's illegal COINTELPRO efforts — subsequently exposed — to imprison or kill Panther leaders. Before sentencing, O'Neal received warnings that he might not get out of prison alive, and decided to flee the country rather than submit to imprisonment.
A Panther in Africa is both heartening and heart-wrenching in its exploration of what life has held for O'Neal in the 30 years since he fled America. Still considered a criminal fugitive by the United States government, O'Neal continues to fight his conviction, refusing any deal that falls short of vindication. At the same time, while able to reflect on the excesses of 1960s radicals and his own past as a street hustler, O'Neal remains unapologetic about his Panther past. Even as he has worked to build a new and socially constructive life in Tanzania, O'Neal remains very much the man shaped by his youthful struggles — and very much an American.
Topics