The Rise
In the housing market of the future, an older couple must forego their dreams and adapt to the ever-evolving definition of the American dream.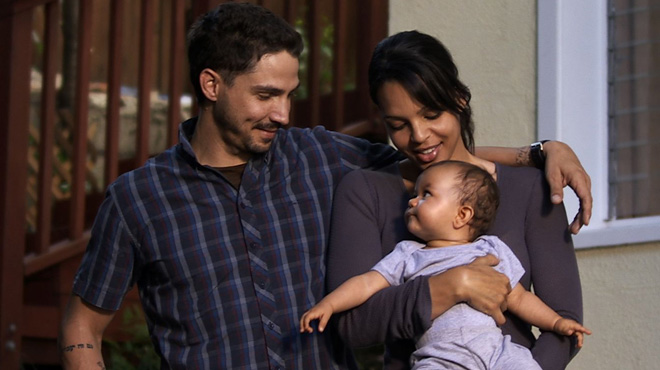 Series

FUTURESTATES

Premiere Date

March 5, 2010

Length

18 minutes

Funding Initiative

Digital Series and Special Projects
We fund untold stories for public media.
Learn more about funding opportunities with ITVS.
The Film
The Rise is a story in the not-so-distant future about a generation letting go of the American Dream and a new generation adapting to life on the edge.
John and Mary, an older couple, are selling their family home for a fraction of what they put into it. He's devastated and she mourns its loss. They wait in their empty living room, Mary boxing up a few pictures as John stares out at the wide ocean.
The agent shows up and tells them potential buyers are soon to arrive. It's the only serious interest they've had and he's more than eager to close the deal. The agent tells them, "At this point you've got a five-year estimate on the property. Five could be four."
The buyers, Oskar and Rika, a scrappy young couple with a baby daughter, arrive. Racially ambiguous, they are a mix of black, white, Latino, and Asian. The women instantly bond over the baby; the men are slower to warm up. After some contentious exchanges, Oskar makes an offer, and John accepts. The agent briefly warns Oskar that the market isn't getting better, and that he and his family can expect to lose electricity, gas, water, and even police protection over time.
Oscar and John agree to the terms and finalize the deal by electronic Hand Scan. After the agent makes a quick exit, John and Mary say good-bye to the home, closing the door, literally, on their old life. It's a bittersweet parting for all.
We join Oscar, Rika and the baby on the deck, as they look out at their new view and new world.
Topics