Still Life with Animated Dogs
From his days in Communist Czechoslovakia through times in the United States, Paul Fierlinger has navigated through life with dogs as his co-pilots.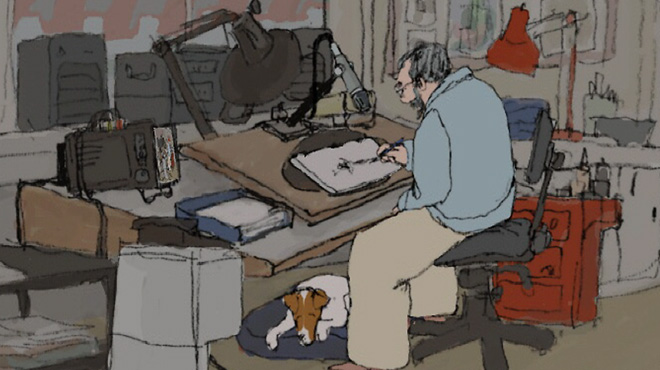 Series

Independent Lens

Premiere Date

March 29, 2001

Length

30 minutes

Funding Initiative

Open Call
Award
2001 SFFilm Festival-Best of Television-Animation
Award
2002 Peabody Awards-George Foster Peabody Award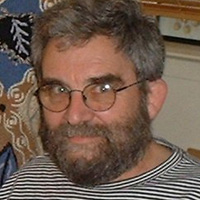 Producer
Paul Fierlinger
Born in Japan in 1936 to Czechoslovak diplomat parents, Paul Fierlinger spent World War II in the United States before living in Communist Czechoslovakia for 20 years. While at Czech boarding school, 12-year-old Fierlinger created his first animated film by shooting drawings from his flipbook with a 16mm Bolex camera. In 1958, he established himself as… Show more Czechoslovakia's first independent producer of animated films for Prague TV, a division of Kratky Film. He produced close to 200 short and very short theatrical and TV films in Prague before he escaped to Western Europe in 1967. After animating films in Holland, France, and Germany, he arrived in the United States one year later. In the U.S., Fierlinger began by first animating political commercials for Hubert Humphrey and many other political candidates. In 1971, he established his own studio, AR&T Associates, Inc. in Philadelphia, Pennsylvania. In his more than 40-year career Fierlinger has created over 800 animated films which have garnered more than 200 major international awards. In addition to a Pew Charitable Arts grant for his body of work, Fierlinger's accolades include an Academy Award nomination for It's So Nice to Have a Wolf Around the House, many awards for educational films, TV commercials, and children's films. He is the creator of Sesame Street's "Teeny Little Super Guy," and "The Adventures of Letterman" in Arabic, Nickelodeon's Amby & Dexter, the acclaimed American Playhouse television feature "Drawn From Memory," and an award-winning animated mini-documentary series for cable TV's Oxygen network, Drawn From Life. His PBS animated specials, Still Life with Animated Dogs and A Room Nearby, have each won the prestigious Peabody Award for excellence. Several of Fielinger's films have become part of the permanent film collection of The Museum of Modern Art in New York. Show less
We fund untold stories for public media.
Learn more about funding opportunities with ITVS.
The Film
In Still Life with Animated Dogs we meet Roosevelt, Ike, Johnson, and Spinnaker, the canine companions who helped shape Paul Fierlinger's evolution as an artist and as a man. Vivid animation illustrates the adventures of the endearing dogs who shared their owner's 40-year journey from despair to wonder.

Living in Stalinist Prague, Czechoslovakia in the 1950s, Fierlinger named his Scottish Terrier Roosevelt. While Fierlinger was loudly belligerent, Roosevelt learned how to stay out of the spotlight. He taught Fierlinger a valuable lesson in civil disobedience: "When it comes to authority, get sneaky and do everything under the table. It never failed [Roosevelt] 'till the day he died."

After Roosevelt passed away, Fierlinger heard of an "uncontrollable" dog in need of a new home. In order to take Ike everywhere, Fierlinger created a badge that falsely certified himself as a seeing-eye dog trainer. "Having to take care of a dog made me hold on to the last trace of decency and self-worth left in me," he said.

Not surprisingly, the artist soon found another loyal companion after he settled in the United States in the late 1960s. Johnson, a charismatic and quirky Boston Terrier, introduced Fierlinger to a part of himself — confident and commanding — he never knew existed.

At the film's completion, Paul Fierlinger is an award-winning animator living in the Philadelphia suburbs, where he owns a much-loved terrier named Spinnaker, who came to live with him after it was picked up by a woman on her way to a Dog Rescue Society picnic. "Spinnaker registers every nuance of my behavior, especially when it has to do with his own desires or fears," says the artist. Through his daily walks and on sailing trips, Fierlinger muses about the unspoken bonds between animals and humans and about the divine powers of nature.
Topics