TED Talks
A three part PBS series recorded at the Theater in New York featuring TED Talks from some of the world's greatest thinkers and doers.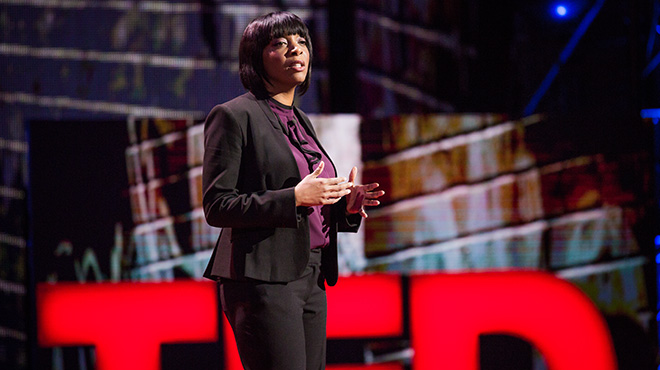 Premiere Date

March 30, 2016

Length

180 minutes

Funding Initiative

Series and Special Projects
Executive Producer
Juliet Blake
Juliet Blake currently produces television programs for TED Talks and is TED's Curator of Special Projects. She produced TED's first TV special, TED Talks Education for PBS, hosted by John Legend. Blake recently jumped into the world of feature film with The Hundred-Foot Journey starring Helen Mirren and directed by Lasse Hallström, with Blake serving… Show more as producer alongside Steven Spielberg and Oprah Winfrey. Shot on location in France and India, The Hundred-Foot Journey was released in theaters by DreamWorks in August 2014 and was an unexpected success, grossing over $88 million at the box office. Blake started working on the project in early 2009, after optioning the book before it was published. As a senior executive at the National Geographic Channel in Washington DC, Blake oversaw all the development and production of NGT — National Geographic's in-house production company — where she was responsible for the production of 125 hours of content each year, including the channel's multi-Emmy Award-winning program Explorer. Blake also supervised the development and production of the critically acclaimed hit Border Wars. Previously, she was President of Jim Henson Television where she was responsible for all prime time and children's television, including global oversight of the Muppet franchise. She developed and produced the Muppets' first TV movie: It's a Very Merry Muppet Christmas for NBC, and executive produced the final 33 episodes of acclaimed award-winning SyFy Channel series Farscape. Blake has also developed feature films for Sean Connery and Mike Medavoy's Phoenix Pictures. She got her start in entertainment with BBC Radio when she was 20. With the success of her two-part radio documentary on Jewish humor she was able to land her first job in TV on the BBC series The Golden Land. Show less
TED Curation
Chris Anderson
We fund untold stories for public media.
Learn more about funding opportunities with ITVS.
The Film
TED Talks is a three-part PBS series of one-hour television specials recorded at the Town Hall Theater in New York and featuring TED Talks from some of the world's greatest thinkers and doers. The programs also feature performances and short independent films. Hosted by author and comedian Baratunde Thurston, each episode focuses on a specific theme:
TED Talks: Science and Wonder asks, "How do we make sense of the universe around us?" as some of the brightest scientific and artistic minds take us on a journey to answer the riddles of the universe that keep scientists awake at night. The program takes viewers on a journey through the human body with Paula Hammond, head of Chemical Engineering at MIT, examines the relationship between science and art as we look at climate change through the eyes of remarkable artist Zaria Forman, and looks at the science of light through the eyes of Danielle Feinberg, Pixar's Director of Photography and Lighting. We will also go on a mystery tour with Radiolab's Latif Nasser, who takes us across the frozen Arctic with a paleobiologist in search of answers to a complicated question, armed only with one tiny clue, resulting in a huge payoff. This program also contains a deeply moving short film from Ric Burns featuring the late Dr. Oliver Sacks, filmed just a few weeks before he passed away.

TED Talks: War and Peace: features men and women who have experienced every aspect of war — fighters, journalists, psychologists, doctors, and peacemakers — for a look at the devastating impact of war in our world. Veteran-turned-actor Adam Driver reveals his passion for the arts and the armed forces and award-winning journalist and filmmaker Sebastian Junger examines the tribal nature of war and why the United States has much higher rates of PTSD than many other countries. The program also features music from Rufus Wainwright and short films from award-winning documentarians focused on how to talk to kids about war and the latest prosthetic technology for returning veterans.
TED Talks: Education Revolution, with Baratunde Thurston co-hosting with actor and Tony Award-winning singer Sara Ramirez, focuses on how education is changing to adapt to our new digital world, examining what the classroom might look like in the future and the impact of online teaching. The program features talks from innovators in the field of education, including Sal Khan and Victor Rios. We also take a deep dive into the problems of the school-to-prison pipeline with a TED Talk from Principal Nadia Lopez, whose middle school is in the most dangerous borough in New York and where almost all her students live below the poverty line. And we address the issue of over-parenting with some revolutionary ideas from Julie Lythcott-Haims, author of How to Raise an Adult, who believes chores and love are more important than a check-listed childhood. The program also features music from Meshell Ndegeocello, a performance piece from the legendary Anna Deavere Smith from her one-woman show, Notes from the Field: Doing Time in Education, and several short films on the modern classroom, Implicit Bias, and what it's like to be an undocumented student growing up in Georgia.
Topics