Tent City
A father who makes his living evicting the powerless must choose between his responsibilities and his moral principles.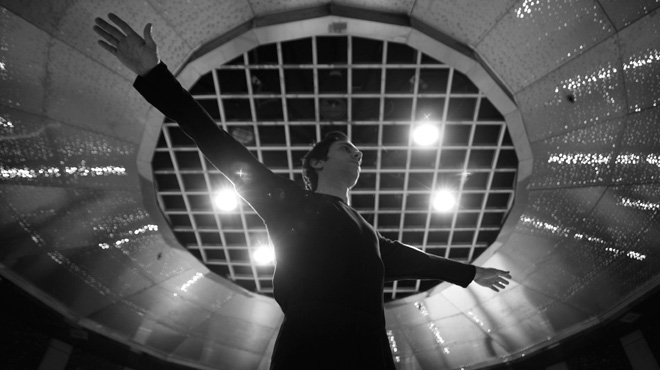 Series

FUTURESTATES

Premiere Date

March 5, 2010

Length

19 minutes

Funding Initiative

Short-Form Series and Special Projects
Director
Aldo
Velasco
Aldo Velasco is a filmmaker and playwright born in Guadalajara, Mexico. His short films have screened at the Sundance, SXSW, and Los Angeles Film Festivals, among others. He wrote and directed the film Tent City for the Futurestates series. Velasco's play The True History of Coca-Cola in Mexico has been produced in several theatres around the country,… Show more including the San Diego Repertory Theatre, the Empty Space in Seattle, and most recently the GALA Hispanic Theater in Washington, D.C.. His short film INFITD was selected by UCLA Professor Chon Noriega as one of the 100 Best Chicano Films of all time. Velasco is also an editor of feature film, including Chittagong, the epic Indian historical drama directed by Bedabrata Pain. He also edited Grace Lee's political mock documentary Janeane From Des Moines, which premiered at the Toronto Film Festival, 2012. Velasco has worked as a private investigator in Los Angeles. His investigation of the Mario Rocha case was featured in the film Mario's Story, which won the Audience Award for Best Documentary Feature at the Los Angeles Film Festival in 2006. Show less
Producer
Jasmine
Jaisinghani
Jasmine Jaisinghani is an independent producer in Los Angeles. Her professional background began at historic Capitol Records and George Harrison's label, Dark Horse Records. Jaisinghani also manages and curates for film festivals ranging from AFI Fest to the Indian Film Festival of Los Angeles. While working with the Indian Film Festival she has… Show more showcased the talent of the Bombay Dub Orchestra, Cheb i Sabbah, L Shankar of Shakti, Gingger Shankar and Taal Dance Company. In addition to Beholder, she has also produced Tent City for FUTURESTATES Season One, which made its premiere at the SXSW Film Festival in 2010. She holds a degree from Carnegie Mellon University in drama. Show less
We fund untold stories for public media.
Learn more about funding opportunities with ITVS.
The Film
Tent City is set in the near future during a time of economic collapse. Unemployment is in the double digits, and block after block of businesses and homes have been foreclosed and abandoned. Only the powerful few live in homes, while the rest must survive in the tent cities cropping up everywhere.
Matthew Ochoa, a renowned comic book artist in better times, has acquired a home at great personal cost: He has taken a job on a Resident Eviction Squad. Every day, he and his co-workers must forcibly evict unlucky homeowners who have fallen behind on their payments.
But things aren't much better at home. His relationship with his wife Sandra has become tense. Matthew's 11-year-old son Ivan is clearly furious at him, but refuses to explain why. Despite this, Matthew persuades Ivan to play their favorite game, Trapezoid. Using three random words as building blocks, Matthew and Ivan create a science fiction tale — a story-within-a-story — about a hapless corporate worker who learns to his horror that he is not a human being but is, in fact, a robot created to serve the company's nefarious purposes.
Tent City interweaves Matthew's life at his job with the story-within-a-story of the corporate robot. Matthew's workplace becomes increasingly untenable, and he finds himself identifying more and more with the character in his Trapezoid story. One day he must evict an elderly man who will clearly die alone in Tent City. Another day, he and his co-workers burst into a home only to find that its resident has committed suicide rather than face eviction.
One night, after finishing the next chapter in the story, Matthew learns from Ivan the real reason he has been upset. Ivan admits that he is ashamed of his father's new job; that his own best friend at school was recently evicted, and Ivan has become a pariah at school due to his father's profession. Deeply affected, Matthew must grapple with a painful choice: should he stay at his job and keep his family home, or quit the job and keep his family, even if it means living in Tent City?
Topics