Third Act
Gripped by Parkinson's disease, renowned filmmaker Robert A. Nakamura reflects on his life, legacy, and the future of democracy in the United States.
Funding Initiative

Diversity Development Fund
Director
Tadashi Nakamura
Emmy nominated filmmaker Tadashi Nakamura was named one of CNN's "Young People Who Rock" for being the youngest filmmaker at the 2008 Sundance Film Festival and listed as one of the "Top Rising Asian American Directors" on IMDb. The fourth-generation Japanese American recently completed Mele Murals, a documentary on the transformative power of modern… Show more graffiti art and ancient Hawaiian culture for a new generation of Native Hawaiians. Mele Murals was broadcasted on PBS and Al Jazeera, and was nominated for an Emmy in 2018. His previous film Jake Shimabukuro: Life on Four Strings was broadcasted nationally on PBS and went on to win the 2013 Gotham Independent Film Audience Award. Nakamura's trilogy of documentary films on the Japanese American experience, Yellow Brotherhood (2003), Pilgrimage (2007) and A Song for Ourselves (2009) have garnered over 20 awards. Nakamura has a M.A. in Social Documentation from UC Santa Cruz, a B.A. in Asian American Studies from UCLA where he graduated Summa Cum Laude. Show less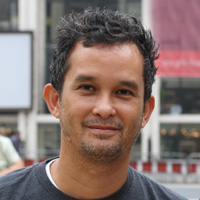 Producer
Marty Syjuco
Originally from the Philippines, Syjuco moved to New York City in 2000 and worked in film distribution at Focus Features, booking the theatrical releases of independent, commercial, and Academy Award-winning films. In 2004, he took a leap of faith to pursue his passion: nonfiction filmmaking. In 2005, he produced the one-hour film Atrapado en la… Show more Injusticia, which was broadcast on Spanish national television. He developed it into the feature-length documentary, Give Up Tomorrow. The film was an ITVS co-production and commissioned by Nick Fraser for BBC's Storyville, with support from the Sundance Documentary Film Program, CAAM, Tribeca Film Institute, Fledgling Fund, Bertha Foundation and BRITDOC, among others. To date it has broadcast in over 10 territories, including BBC, DR, SVT, Canal+ and as part of POV's 25th anniversary season. In addition to being nominated for an Emmy Award for Outstanding Investigative Journalism, Give Up Tomorrow has received recognition from the Grierson British Awards, Cinema Eye Honors, Amnesty International's Media Awards, and the Puma Impact Award. Show less
We fund untold stories for public media.
Learn more about funding opportunities with ITVS.
The Film
Pioneering Asian-American filmmaker Robert A. Nakamura, known as "the Godfather of Asian-American media," reflects on his life and work across 50 years. Suffering from Parkinson's disease and depression, Nakamura converses with his son, Tad, also a filmmaker. A survivor of America's WWII concentration camp in Manzanar, the elder Nakamura expresses his concerns with the national amnesia toward bigotry and the rise of xenophobia in contemporary American life. As Tad struggles to cope with his father's illness, the film develops into a soul-searching, filmmaker-to-filmmaker conversation on historical trauma and the future of democracy.
Topics