Tia and Marco
When a border patrol agent discovers a child hiding in her home, she is forced to question her loyalty to a system of exclusion.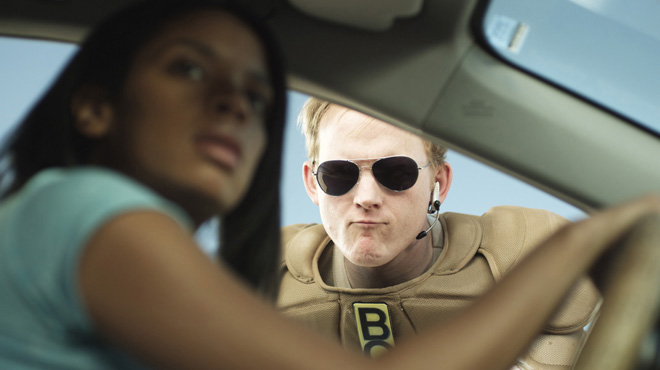 Series

FUTURESTATES

Premiere Date

March 5, 2010

Length

16 minutes

Funding Initiative

Digital Series and Special Projects
Director
Annie Jennifer Howell
Annie Howell has written and directed short films that have played internationally on the film festival circuit, including at SXSW, Newport, Full Frame, and Clermont-Ferrand. Her work has aired on the Sundance Channel, PBS, and the Independent Film Channel. Her screenwriting work, in development with New York production companies such as Locomotive… Show more Films (producers Lucy Barzun Donnelly and Joshua Astrachan), has been the recipient of a 2005 Nantucket Screenwriters's Colony fellowship and the Grand Prize Award at IFP's 2008 Independent Film Week. Her web series, sparks-series.com, will appear soon on Sundancechannel.com, where she also blogs about film and storytelling. Annie earned an MFA at NYU's Graduate Program in Film and is currently Assistant Professor of Film at Ohio University. She has also taught at Duke University and at The New School, where she was the founding director of the Graduate Certificate in Documentary Media Studies. Show less
We fund untold stories for public media.
Learn more about funding opportunities with ITVS.
The Film
The year is 2025. All U.S. citizens in good health are now required to serve one year in a government job, placed by lottery at schools, soup kitchens, highways, and borders.

Tia Moran is six months pregnant and finishing her year as a patrol officer on the U.S.-Mexico border. Her service has taken its toll: After months of grueling work, she no longer empathizes with those who make it over the wall. "English-only" laws have prohibited government employees from learning or speaking Spanish, and far fewer Mexicans speak English, contributing to an intensified environment on the border. Tia is simply relieved that she can now return to New York City where she and her boyfriend will prepare for the birth of their son.

On her last night in Arizona, Tia discovers Mexican teen Marco — cunning, charming, and speaking perfect English — hiding in her house. Waiting overnight for Border Patrol to pick him up, she is forced to consider her loyalties to closed systems as well as her own humanity. At once a cautionary tale and a story of hope, Tia and Marco investigates the complexities of immigration through one personal interaction.
Topics