Town Hall
Gathering under the banner of the Tea Party, Katy and John are angry and believe America's salvation lies in a return to true conservative values.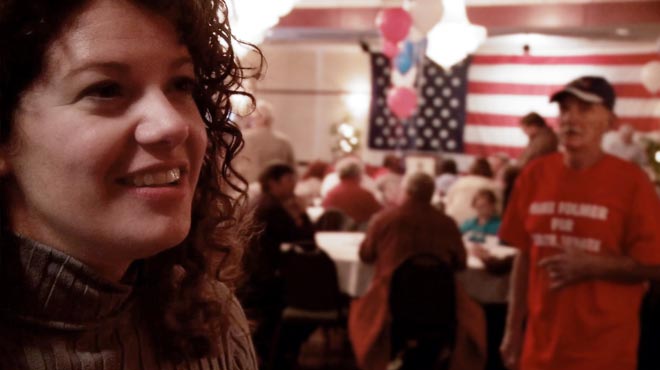 Series

America ReFramed

Premiere Date

April 1, 2014

Length

90 minutes

Funding Initiative

Series and Special Projects
Diversity Development Fund
Director/Producer
Jamila Wignot
Jamila Wignot is an award­winning documentary filmmaker. Her 2008 film Walt Whitman, produced for American Experience, was nominated for an Emmy for Exceptional Merit in Nonfiction Filmmaking. She also produced The Rehnquist Revolution, the fourth episode for WNET's series The Supreme Court, which won a 2007 Cine Golden Eagle Award and a 2008 NYf… Show more Silver Medal. The series was the 200 IDA Limited Series winner. Her most recent film, Triangle Fire, broadcast on February 28, 2011 and received a Peabody Award. Show less
Director/Producer
Sierra Pettengill
Sierra Pettengill is a Brooklyn­based producer and director. She is the producer of Cutie and the Boxer (Sundance 2013) and the archival producer of Matt Wolf's Teenage. For PBS's American Experience series, she was the associate producer of the Emmy­nominated Walt Whitman, as well as the Peabody Award­winning Triangle Fire. She was also the associate… Show more producer of HBO's Wartorn: 1861 ­ 2010, an in­depth look at PTSD in American veterans. Show less
We fund untold stories for public media.
Learn more about funding opportunities with ITVS.
The Film
Town Hall casts an unflinching eye at Katy and John, two Tea Party activists from the battleground state of Pennsylvania who believe America's salvation lies in a return to true conservative values. In Katy, we see a political novice rocketed to media stardom after a sensational confrontation at a town hall meeting with her senator. A young stay­at­home mom turned Tea Party spokesperson, she is gifted a new identity, steeled by the voices of conservative media. For John, a retired former businessman and life­long Republican living in one of the poorest cities in the country, the America he knows is slipping away. Heading up a local Tea Party group is his last, best chance at stanching the changes he is witnessing all around him, but unable to afford his aging mother's health care, John has to make difficult decisions that reveal the complicated relationship between his principles and the demands of his life. More than a political treatise, Town Hall is a tone poem that immerses the viewer in Katy and John's world, painting a portrait of the fears of those who believe they will be left behind by a nation's transition.
Topics