Voices of Resilience
Warriors search - and finally find themselves - on a path towards inner peace.
Series

POV

Funding Initiative

Open Call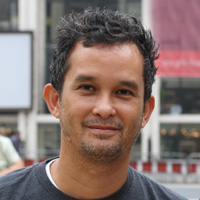 Applicant
Marty Syjuco
Originally from the Philippines, Syjuco moved to New York City in 2000 and worked in film distribution at Focus Features, booking the theatrical releases of independent, commercial, and Academy Award-winning films. In 2004, he took a leap of faith to pursue his passion: nonfiction filmmaking. In 2005, he produced the one-hour film Atrapado en la… Show more Injusticia, which was broadcast on Spanish national television. He developed it into the feature-length documentary, Give Up Tomorrow. The film was an ITVS co-production and commissioned by Nick Fraser for BBC's Storyville, with support from the Sundance Documentary Film Program, CAAM, Tribeca Film Institute, Fledgling Fund, Bertha Foundation and BRITDOC, among others. To date it has broadcast in over 10 territories, including BBC, DR, SVT, Canal+ and as part of POV's 25th anniversary season. In addition to being nominated for an Emmy Award for Outstanding Investigative Journalism, Give Up Tomorrow has received recognition from the Grierson British Awards, Cinema Eye Honors, Amnesty International's Media Awards, and the Puma Impact Award. Show less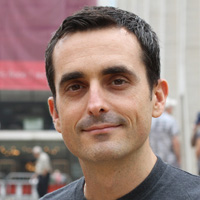 Co-Applicant
Michael Collins
Collins is an Emmy-nominated filmmaker and the founder of Thoughtful Robot, a production company specializing in documentary films that galvanize change. In 2005, he directed Caught in an Injustice, a one-hour documentary broadcast on Spanish national television that received Special Mention at the 15th International TV3 Actual Awards. In 2010… Show more Michael's short film, Gerthy's Roots, won the Belief Matters Award and was selected for the Media that Matters collection. In 2011, he completed Give Up Tomorrow, his documentary feature film seven years in the making. The film premiered at the Tribeca Film Festival and won the Audience Award and a Special Jury Prize for Best New Director. The film went on to screen in over 80 festivals in 40+ countries, winning 18 major awards including seven Audience Awards, four Human Rights Awards and the Activism Award at Michael Moore's Traverse City Film Festival. Give Up Tomorrow was selected as a finalist for the Puma Impact Award and was nominated for an Emmy Award for Outstanding Investigative Journalism. Show less
We fund untold stories for public media.
Learn more about funding opportunities with ITVS.
The Film
A companion piece to the feature film Almost Sunrise, Voices of Resilience follows the struggles of a group of veterans – that of a young man from Colorado, and a young couple in Saipan (one of many remote islands in the Pacific) where enlistment rates tend to soar higher than any other community in the U.S. population. Through yoga and meditation, warriors who are searching – and finally finding themselves – on a path towards inner peace.
Topics