Wham! Bam! Islam!
When a Kuwaiti psychologist launches a comic series with 99 superheroes based on the 99 virtues of Allah, he runs up against suspicion.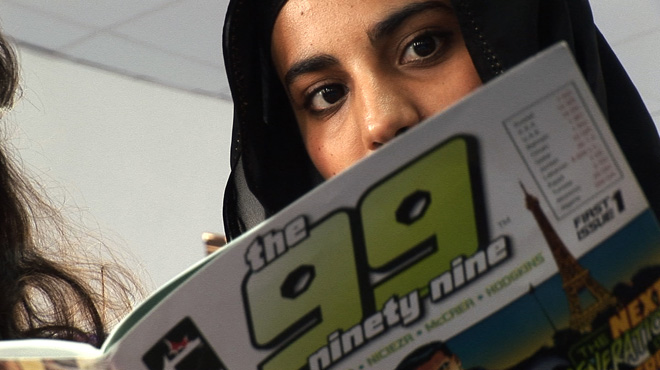 Series

Independent Lens

Premiere Date

October 13, 2011

Length

60 minutes

Funding Initiative

Open Call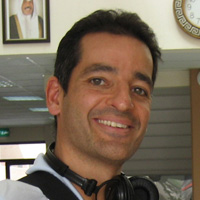 Director
Isaac Solotaroff
Isaac Solotaroff has worked as a documentary producer and editor since 1998. His work has been nominated for an Emmy Award and received a special commendation from the Academy of Motion Pictures, Arts and Sciences. His last film, Visioning Tibet (2005) was acquired by American Public Television and was selected for more than 30 international film… Show more festivals. His other films include: Los Romeros which was nominated for an Emmy in 2002; and his first film Belief Amended, Faith Revealed was chosen as "one of the outstanding documentaries" of 1999 by the Academy of Motion Pictures, Arts and Sciences. Show less
Producer
Katharyn Bond Márquez
Katharyn Bond Márquez is an independent film producer. As a producer, she handles business affairs, development, and initiates strategic partnerships for filmmakers. Recently, she provided business affairs to Pelotero, a documentary film about baseball in the Dominican Republic, and in 2009 produced Seed, a short film distributed by ITVS as part of… Show more the transmedia series FUTURE STATES. She is a former principle of Converge Entertainment, LLC, a film finance and production company focused on American Latino content and a member the National Association of Latino Independent Producers where she served on the Board of the New York Chapter as the co-programming chair. She is a content manager at Thought Equity Motion, is a former attorney, and has a background in marketing and media having worked prior to becoming a lawyer at Saatchi and Saatchi and Young & Rubicam as a media planner for the Hewlett Packard and Chevron U.S.A. accounts respectively. Show less
We fund untold stories for public media.
Learn more about funding opportunities with ITVS.
The Film
In 2003, Dr. Naif Al-Mutawa — Kuwaiti psychologist, graduate of Columbia Business School and father of four young boys — had an idea: create a comic book series with roots in Islam and Islamic culture. Al-Mutawa came up with the concept of The 99: a team of superheroes, each one exemplifying one of the 99 attributes of Allah. His motivations were both entrepreneurial and idealistic — The 99 would exemplify the Islamic virtues of compassion, understanding, and tolerance – qualities not often associated with Islam by the West. Within the Islamic world, Al-Mutawa hoped these new role models would counter the growing tide of political and religious extremism.
As a business, it was a daunting task — comics were relatively unknown in the Arab market and those that existed were all Western imports. Al-Mutawa managed to raise $7 million in initial capital from 54 investors across four continents and brought together a team of comic book veterans to create The 99. The first issue was released during Ramadan 2006 and although it enjoyed widespread critical success, The 99 immediately came under suspicion from religious leaders. The comic was banned in Saudi Arabia and there were threats of a fatwa forbidding The 99. As Al-Mutawa battles the cultural gatekeepers (both anointed and self-anointed) to a draw Al-Mutawa becomes a forceful advocate for an Islam based on open-mindedness and individual thought.
However, Al-Mutawa faces an even more vexing nemesis: the global marketplace. With the comic missing its projected sales numbers in the Middle East, Al-Mutawa turns to theme parks and animation with the hopes that through these more lucrative platforms he may save his fledgling superhero property. Realizing that The 99 will not survive if focused solely on the Middle East, Al-Mutawa must now target an international and predominately non-Muslim market. However, in doing so, is Al-Mutawa abandoning the underlying social principles for creating The 99 to make them financially viable?
Topics