When I Walk
When Jason DaSilva was diagnosed with multiple sclerosis, he didn't wallow in gloom. He picked up a camera and set out to inspire people.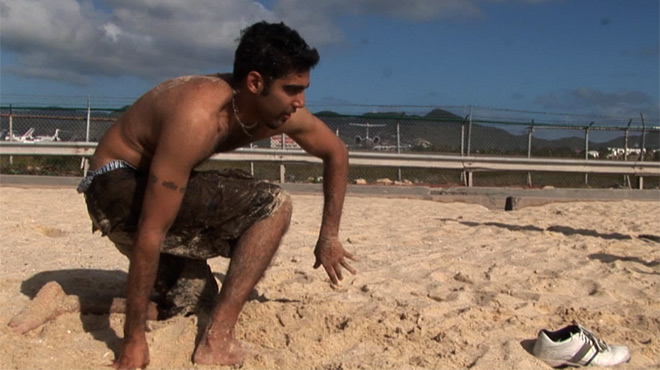 Series

POV

Premiere Date

June 23, 2014

Length

90 minutes

Funding Initiative

Open Call
Award
2014 News and Documentary Emmy Awards-Outstanding Informational Programming - Long Form
Producer/Director
Jason DaSilva
Jason DaSilva's first collaborative feature film was Cuba Dreams, shot in Havana in 1999 and screened at the Latin America Film Festival in Cuba later that year. His next film, Olivia's Puzzle, screened at more than 30 festivals including Sundance, received an Oscar qualification in the summer of 2003, and aired on HBO and PBS in 2004. His third film, the… Show more feature documentary Lest We Forget, premiered at the International Documentary Festival of Amsterdam in 2004, and his film A Song for Daniel screened at the Tribeca Film Festival 2005 and aired on PBS in 2005. Currently, DaSilva is residing in New York City and received the Project: Involve Filmmaker Fellowship award from IFP/New York. His most recent short film, Twins Of Mankala premiered at Tribeca Film Festival 2006 and aired on P.O.V. In 2008, Jason premiered his second feature at AFI/Dallas, From The Mouthpiece On Back. Show less
We fund untold stories for public media.
Learn more about funding opportunities with ITVS.
The Film
When I Walk is a documentary about how Jason DaSilva's world has changed since 2005, when he was a young filmmaker of 26 and was diagnosed with multiple sclerosis — an autoimmune disorder that causes the body to attack nerve cells in the brain and spinal cord.
Over several years, his eyesight and his motor function have gradually deteriorated, making it almost impossible for him to walk unaided. His decline caused DaSilva to question his identity as a filmmaker, and he asked himself: "What kind of filmmaker can't see or walk?"
DaSilva discovered that the broad discussion around MS, which has no cure and limited treatments, could be grim and uninspiring. So he took his filmmaking skills and decided to flip the script. When I Walk approaches the struggles of living with MS and the medical community's efforts to find better treatments and ultimately a cure with heart, humor, and courage.
Topics