White
With no money to pay for medical care for his pregnant wife, Bato races against the sun to save his family.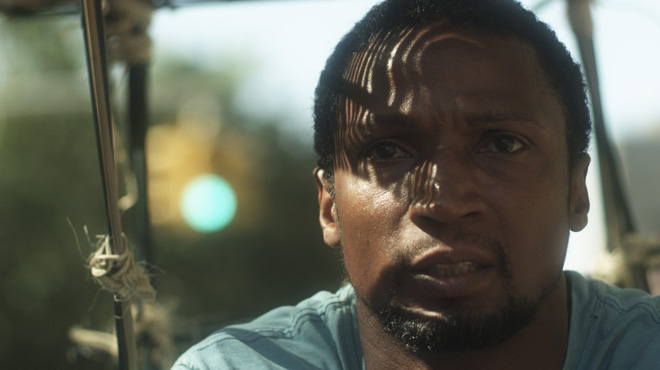 Series

FUTURESTATES

Premiere Date

April 11, 2011

Length

16 minutes

Funding Initiative

Digital Series and Special Projects
Director
A. Sayeeda Clarke
Sayeeda is a proud native New Yorker and graduate of NYU's Tisch MFA in Film and Television where she was a Dean's Fellow. Her previous award-winning films include Sin Salida (aired on HBO & HBO Latino for two years, finalist at the American Black Film Festival, craft award at The First Run Film Festival) and The Grey Woman (Promotion Pictures production… Show more winner, ASC John Alonzo Heritage Award, premiered at Lincoln Center's Walter Reade Theater, a Hallmark short film competition winner). Along with film, Sayeeda directs theater to enlighten her craft. She was an artist-in-residence with Mabou Mines and is a member of the Actors Studio Playwrights/Directors Lab. At NYU Sayeeda was Spike Lee's assistant and worked on the Emmy award-winning documentary, When The Levees Broke. Sayeeda is currently developing the next installment of White. Show less
Producer
Smriti Mundhra
Smriti Mundhra has been working in film and television for more than 10 years. She produced the award-winning feature films Waterborne and Bomb the System and associate-produced Punching at the Sun. Her short films have played and won awards at more than 50 film festivals worldwide including the Sundance Film Festival, Berlinale, the Hamptons Film… Show more Festival, and the Tribeca Film Festival. Her other production credits include Being John Malkovich; Nurse Betty; O Brother, Where Art Thou; and Wall Street 2. She is in production on her directorial debut, a feature-length documentary about Indian matchmakers entitled The Marriage Brokers. Show less
Co-Producer
Maya Anand
Maya Anand's short film Anjali, selected for Faculty Honors at the 2008 Columbia University Film Festival, screened internationally at several festivals, including the 2008 Palm Springs Shortfest and the inaugural California Next Gen Film Festival, where she was named Best Director. Anand is the recipient of the 2008 Lifetime Student Development… Show more Award for her short film, Iris, which screened at the 2009 Los Angeles Shorts Fest, the 2009 Fort Lauderdale International Film Festival and was named a semi-finalist in the 2009 Angelus Student Awards. In 2008, Anand produced William J. Saunders' short Dash Cunning. In 2009 she produced her first feature film, Sweet Little Lies. Show less
We fund untold stories for public media.
Learn more about funding opportunities with ITVS.
The Film
It's another 120-degree day with five more days to Christmas and hot is the only season left in New York City. Global warming has become a tangible threat and everyone is creating new ways to protect themselves from the sun. Bato and his wife Gina are expecting a baby, but they weren't expecting it so early. Although they planned to have the baby at home, Gina now requires the services of a clinic for the premature delivery. With no money for the clinic, Bato enters into a race against the sun, the birth, his community and even his own identity to save his family.

Topics