You're Looking at Me Like I Live Here and I Don't
Lee Gorewitz lives in a care facility for Alzheimer's patients, struggling to remember herself and make sense of a world that is falling away.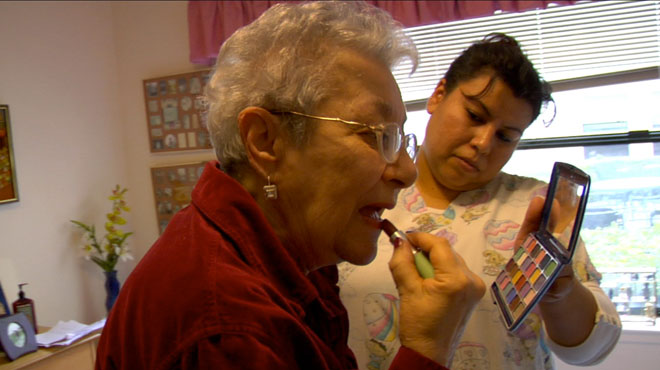 Series

Independent Lens

Premiere Date

March 29, 2012

Length

60 minutes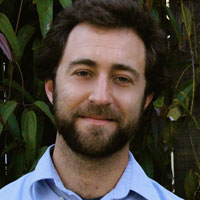 Producer/Director
Scott
Kirschenbaum
We fund untold stories for public media.
Learn more about funding opportunities with ITVS.
The Film
In Danville, California, the Traditions Alzheimer's Care Unit houses 20 residents, most of whom are shepherded by caregivers through scheduled activities such as balloon baseball and bingo. For them, life is routine.
For Lee Gorewitz, life is an odyssey.
From the moment she wakes up, Lee wanders to the boundaries of the unit. Along her route, she gazes through windows, examines other residents' rooms, and strains to see beyond the front entrance. An enigmatic outsider, Lee is on a quest for something that she can neither articulate nor comprehend; she is interested only in where her instincts guide her.
Drawn to family photographs scattered throughout her bedroom, Lee is unable to identify herself in the pictures. Combing through the items in her closet, she mistakes an everyday outfit for her wedding dress. Seeking answers elsewhere, Lee finds a birthday card but cannot recognize that she is the "Mom" to whom the card is addressed. Exasperated and missing her children, Lee embraces a make believe family of stuffed animals.
Although she lacks the ability to grasp memories, Lee's attempts at recollection demonstrate unusual and poetic candor. Reflecting on her birthplace, she says, "Brooklyn, it's right behind you." Regarding her deceased husband, she professes, "How do I even say it? The air ... was very good." Considering love, she intones, "That's a damn good thing to work with."
With a past that is out of reach, Lee turns her attention to her present surroundings. When in good spirits, she is near angelic: consoling heartbroken women, kissing caregivers, and shaking a tail feather even after the music has stopped. But with no realistic option for leaving, Lee gives in to frustration. She argues with a tablemate during lunch, kicks a bouncy ball at a decrepit man's legs, and unapologetically tells a sickly woman that she is going to die.
Although Lee struggles to coexist with the other residents, she tries to accept her new home. On a final evening lap around the unit, Lee approaches her caregiver and says, "Now I'm going to my family. Aren't you mine?"
Widowed, cloistered, and slowly undone by her inability to think or speak clearly, Lee has every reason to succumb to the expectations of her conditions. Instead, she defies despondency. When she breaks down, she rebuilds. When she loses words, she summons emotions. And, despite the small defeats of her efforts, she remains an exceptional and resilient soul.
Immersed in the confounding logic of Alzheimer's, Lee's story adheres to the discordant, but never fully crippling rhythms of the disease. Here is one extraordinary woman who will not let us forget her — even as she struggles to remember her self.
Topics