Big Night for ITVS and its Films at International Documentary Association Awards
Posted on December 7, 2015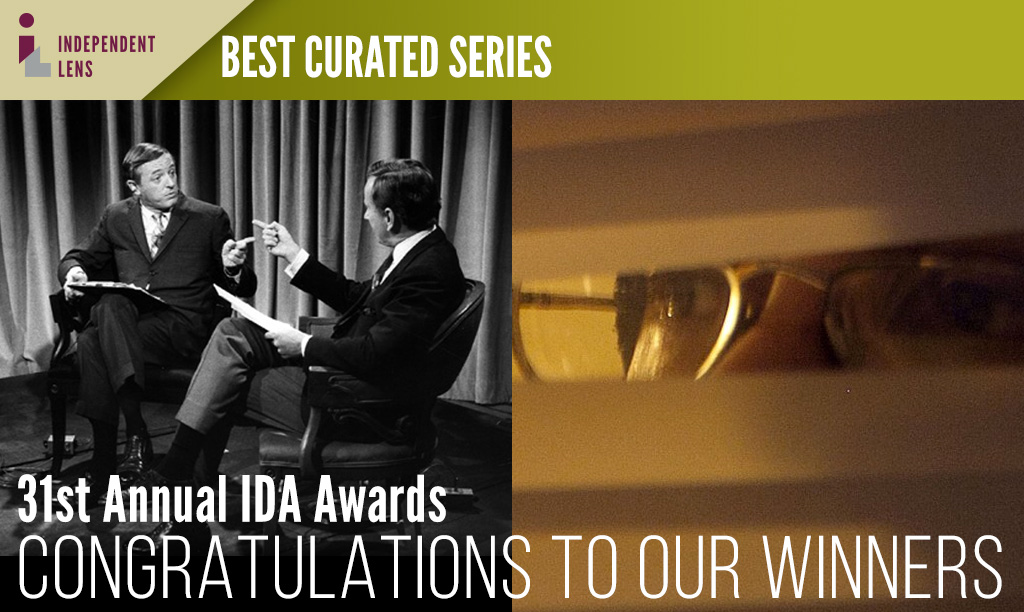 The International Documentary Association (IDA) announced the winners of the 31st IDAs this weekend with ITVS receiving four IDA awards. This weekend's honors brings the total number of IDA honors for ITVS to 21, including a third consecutive win for its acclaimed weekly series Independent Lens. ITVS' Independent Lens established a bona fide winning streak last night, sharing its Best Curated Series honors with POV. Independent Lens was previously awarded the 2013 International Documentary Association Best Continuing Series Award and the 2014 International Documentary Association Best Curated Series Award.
"ITVS is thrilled to see the work that we believe in so deeply, be recognized by the IDA, and we are proud to have played a role in their success. (T)ERROR, Best of Enemies and The Black Panthers: Vanguard of the Revolution (nominated for Best Feature) all show the changing face of America – on camera and off. Every day, our mission is to champion independent filmmakers who are working to tell the world's untold stories. These filmmakers capture the lives of underrepresented people on film, then we help to make their stories accessible to everyone," said ITVS President and CEO Sally Jo Fifer. "We are particularly pleased that Independent Lens continues to be recognized and congratulate Lois Vossen and her Independent Lens team. We would also like to congratulate Gordon Quinn on his well-deserved Career Achievement Award. Gordon was integral to the creation of ITVS, leaving an important and lasting legacy around our mission of diversity and inclusion in the independent filmmaking community," continued Fifer.
"Receiving the 2015 IDA Best Curated Series is a great honor and I am proud of my team at Independent Lens and the amazing filmmakers who contribute to the success of the program," said Lois Vossen, executive producer of Independent Lens. "We are proud to be a part of ITVS and its mission to bring audiences face-to-face with the lives and concerns of their fellow Americans who are underrepresented in the media landscape today."
The Emerging Documentary Filmmaker Award was given to filmmakers Lyric R. Cabral and David Felix Sutcliffe for their work on the film (T)ERROR, which will air on Independent Lens February 22, 2016. "In our film, we wanted to highlight what we consider a serious threat to the fabric of our democracy. ITVS' generous support allowed us to have a strong platform to tell this story at a critical time in our country," said Cabral and Sutcliffe. "It is an honor to be recognized by IDA with the 2015 Emerging Documentary Filmmaker Award."
The acclaimed Best of Enemies (which will air on Independent Lens in October, 2016) was honored with two awards: Best Music for the original score by Jonathan Kirkscey; and the ABC News VideoSource Award, which recognizes the best use of news footage in a documentary. "We are both grateful to have received two awards tonight and want to thank ITVS for its generous support of Best of Enemies," said Best of Enemies directors Robert Gordon and Morgan Neville. "Just as Gore Vidal and William F. Buckley Jr.'s diverse points of views shaped television forever, ITVS's mission of supporting diverse and independent filmmakers have helped shaped a generation of storytelling in this country."
The full list of winners was published on Variety.
Topics
From our blog
May 9, 2018

Councilwoman follows the story of Carmen, a hotel housekeeper and mother from the Dominican Republic striving to advocate for low-income workers from the margins to Providence, Rhode Island city politics. Her journey encourages us all to reflect on who should be responsible for the decision-making in our communities. Margo Guernsey, director of…

April 17, 2018

Now in it's 77th year, the Peabody Awards announced the winners of the 2018 documentary prize. Of the nine documentaries that will be receiving awards, three are ITVS-funded; Newtown, Deej, and Maya Angelou: And Still I Rise will be honored on May 19 at Cipriani Wall Street in New York."Our documentary filmmakers know what hard work is all about," noted…

April 12, 2018

New ITVS board member Danfung Dennis brings traditional and cutting edge storytelling perspective to the ITVS governing body.