Afghanistan Unveiled
The first team of women video journalists trained in Afghanistan reveal the effects of the Taliban's repressive rule and U.S.-sponsored bombing.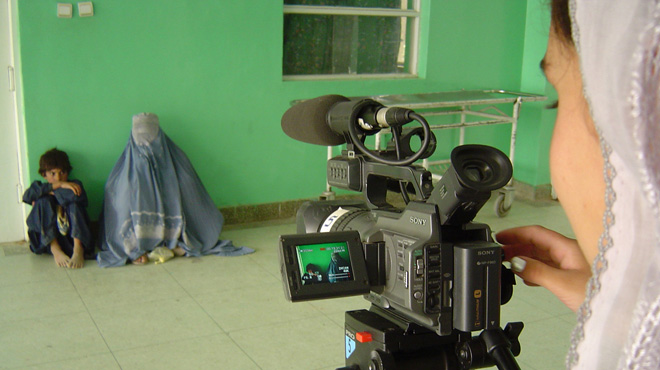 Series

Independent Lens, Global Voices

Premiere Date

November 16, 2004

Length

60 minutes
Nominated
2004 News and Documentary Emmy Awards-Best Documentary
Director
Brigitte Brault
Brigitte Brault is the media project manager for the French Foreign Ministry, a writer and video journalist for France Television, and an author of documentary films and reports. She is also a volunteer video journalist for Etats d'Urgence, a production company of the French NGO, Medecins sans Frontières.
We fund untold stories for public media.
Learn more about funding opportunities with ITVS.
The Film
From July 2002 to August 2003, 14 young women — several still in their teens — trained as camera operators and video journalists at the AINA Afghan Media and Culture Center in Kabul. These were the first female journalists to be trained in Afghanistan for more than a decade, and the first ever to be trained in digital media; most of the trainees had never traveled outside Kabul, and had not been able to study or pursue careers while the Taliban controlled their country. Created as the culmination of this unique training program, Afghanistan Unveiled contrasts the harsh lives of the rural women of Afghanistan with those of the film's young camerawomen, who are experiencing newfound freedom and opportunity while attempting to use their work to change the condition of women in their country.
Traveling to rural regions of Afghanistan, the filmmakers worked to gain the confidence and trust of their interviewees, obtaining unprecedented access to their countrywomen. Journeying to Bamiyan, the mountainous region where the Taliban destroyed the enormous ancient statues of the Buddha, they captured heartbreaking footage of women and children who have been reduced to burrowing in caves. Struggling to survive with little food and no water or electricity, left to fend for themselves as the rest of the country rebuilds, the women are led by Zainab, an older woman who details the privations of their daily lives.
The filmmakers travel to Herat, a city known for its rich heritage but also for its lack of freedom for women, where they discover it difficult to find a woman willing to speak to them. They visit a doctor who treats women who cannot afford medical care, and meet Faugia, whose husband was killed by U.S. bombs when she was six months pregnant. Now Faugia's daily struggle is to find food to feed her family.
In Jalalabad, the young women are anxious to interview some of the nomadic Kuchi women, who roam the country and find shelter in destroyed villages. But tribal elders forbid them to film women's faces, and so they journey on. In Badakshan, the journalists learn that the primary source of money in the region is the cultivation of poppies, where one crop can earn enough to buy a car. They finally find a group of Kuchi women willing to speak to them and they hear about their struggles to eke out a life for themselves and their children.
Despite the suffering they encounter, the filmmakers also manage to find moving examples of hope for Afghanistan's future and emerge from the experience committed to revealing not only these stories to the world, but also the personal stories of the women behind the cameras: women who were not allowed to appear in public, let alone travel, during the Taliban era. A poetic journey of self-discovery, Afghanistan Unveiled is a profound reminder of independent media's power to bear witness.
Topics