Dottie Gets Spanked
A boy with an obsession with an I Love Lucy-esque television comedienne exacerbates his social status as a "feminino."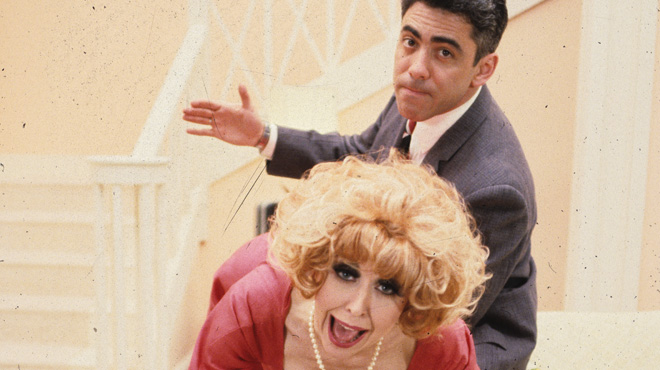 Premiere Date

November 23, 1994

Length

30 minutes
Award
1994 USA Film Festival-Grand Prize
Producer
Todd Haynes
Todd Haynes wrote the screenplay for his directorial debut, Assassins: A Film Concerning Rimbaud in 1985. He followed that film with a short starring Barbie and Ken dolls called Superstar: The Karen Carpenter Story in 1987, but that film was successfully blocked from distribution by Richard Carpenter. Haynes first feature was a horror film called Poison,… Show more which was controversial for being categorized as pornographic by some critics. Still, it won the Grand Jury prize at the Sundance Film Festival. His television debut came in the form of Dottie Gets Spanked in 1993 (and later featured in John Waters Presents Movies That Will Corrupt You). In 1995, Haynes made Safe, a film about a mysterious illness that causes a young woman (played by Julianne Moore) to have a mental breakdown. But Haynes is best known for his 2002 Oscar-nominated breakthrough film Far From Heaven, and his experimental Dylan biopic I'm Not There (2007). Show less
We fund untold stories for public media.
Learn more about funding opportunities with ITVS.
The Film
Another dazzling suburban phantasm from writer-director Todd Haynes, Dottie Gets Spanked (made post-Poison and pre-Safe) is a stylized, bittersweet nod to his childhood fascination with I Love Lucy. Deep in the heart of pre-hippie 1960s America, young, artistically inclined Steven Gale is obsessed with Dottie Frank, wacky star of the eponymous hit sitcom The Dottie Show. While his mother gently encourages the boy's fixation, his father grows increasingly frustrated by his son's apparently "sissified" interests. This provocative, heartfelt mini-feature anticipates Haynes' Oscar-nominated Far From Heaven with its excavation of placid mid-century surfaces and deeply buried emotions. — Zeitgeist Films
Topics