Foto-Novelas
Using fantastic elements from the Mexican and Latin American comic book tradition, everyday reality is woven with magical realism.
Series

Independent Lens

Premiere Date

October 1, 1997

Length

120 minutes
Award
1997 USA Film Festival-"Seeing Through Walls", Special Jury Award
Award
1997 CineFestival - San Antonio-Best Narrative
Award
1997 ALMA Awards-Best Latino Cast in a TV Movie or Mini-Series
Nominated
1997 ALMA Awards-Best Drama
Nominated
1998 Humanitas Prize-"The Fix"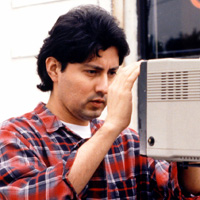 Producer
Carlos
Avila
Carlos Avila is an award-winning director for film and television. He grew up in the Echo Park neighborhood of Los Angeles to Mexican and Peruvian parents. Carlos received his film training at Loyola Marymount University and UCLA's Graduate School of Theatre, Film and Television. Carlos made his feature film directing debut with New Line Cinema's 2000… Show more release, Price of Glory starring Jimmy Smits, Clifton Collins, Jr. and Ron Perlman. This family drama set against the world of amateur and professional boxing was developed at the Sundance Institute's Director and Writer Labs. Carlos also served as Executive Producer on the film's groundbreaking soundtrack album that helped introduce Latin rock and hip-hop to a wide audience. In 2001, he was awarded the ALMA (American Latino Media Arts) award for Best Director for his work on Price of Glory. He is the creator of Foto-Novelas, a Humanitas Prize-nominated PBS television series comprised of half-hour dramas in the spirit of The Twilight Zone. Foto-Novelas was recently added to the permanent collection of New York's Museum of Television and Radio. His award-winning short films, Distant Water and La Carpa have screened at numerous film festivals in the United States and worldwide. Carlos directed the pilot to the Sony Television / Telemundo detective series, Reyes y Rey and directed the "Street Money" episode of the long-running CBS series, Cold Case. Tales of Masked Men is Carlos's first long form documentary. He is a member of the Directors Guild of America. Show less
We fund untold stories for public media.
Learn more about funding opportunities with ITVS.
The Film
Using fantastic elements from the Mexican and Latin American comic book tradition, everyday reality is woven with magical realism in four original half-hour dramas.
"Seeing Through Walls" follows the transformation of a prison inmate turned volunteer guinea pig when a prototype microchip is implanted in his brain. Suddenly, he has access to a wealth of knowledge — and a new understanding.
"In the Mirror" is the haunting tale of a family's encounter with a mirror bequeathed by a deceased aunt. Once hung, the mirror becomes a window to the other side, a place magically inhabited by the family's dead relatives. It also casts a spell on a daughter seeking sanctuary from a recent tragedy.
In "Mangas", a Costa Rican orphan is adopted by an American family. Isolated in a new home, the boy's loneliness prompts his magical stuffed monkey to transform his suburban bedroom into a magical rainforest. But can this magic world stay confined to a single room?
In "The Fix" a once-talented boxer who threw away his promise now takes dives for chump change. During a particularly brutal bout he sees a "calavera" — a Mexican death figure. Sensing his death to be imminent, he accepts his final fight and then races to reconcile with the loved ones he has disappointed.
Topics