If I Can't Do It
A disabled man is pushing for independence and an equal slice of the American pie.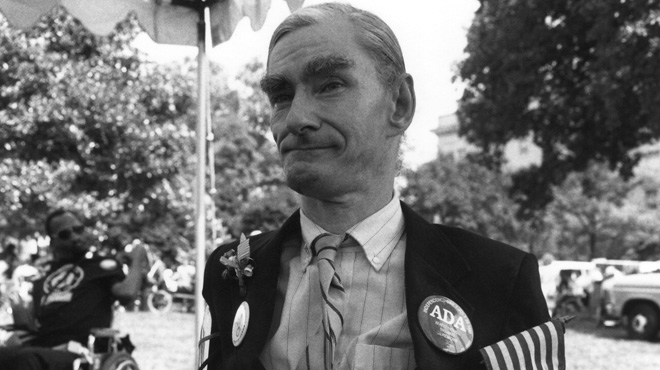 Series

POV

Premiere Date

July 7, 1998

Length

60 minutes

Funding Initiative

Open Call
Award
1999 duPont Awards-Alfred I. duPont-Columbia University Award
Producer
Walter Brock
Walter Brock is a critically acclaimed documentary producer/director whose work has been screened and broadcast all over the world. His film LAND(And How It Gets That Way), about preservation, property rights, people, and the land, was broadcast on PBS in the spring of 2005. An earlier film, A Season In Hell, about a young Kentucky woman's struggle with… Show more eating disorders, was featured in P.O.V.'s 1992 season, won Best Documentary at the USA and Atlanta film festivals, and was screened at the Museum of Modern Art in New York City. If I Can't Do It premiered on P.O.V.'s True Lives series in 1998. His other films include Other Prisoners (1986), and Writing In Water (1984), both directed by Stephen Roszell. Brock also currently teaches art at St. Francis High School in Louisville, Kentucky. Show less
We fund untold stories for public media.
Learn more about funding opportunities with ITVS.
The Film
Arthur Campbell, Jr. doesn't want your sympathy, he just wants what most people do: a living wage, a meaningful social life, a few good laughs, and the means to get around. Filmmaker Walter Brock offers an unflinching portrait of one disabled man who, with many others, is pushing for independence and an equal slice of the American pie. From the remote hills of Kentucky to the hallowed halls of Congress, join Arthur on his unforgettable ride through life and the disability rights movement.
Topics