The Waiting Room
A public safety-net hospital struggles to handle patient overload in a swooning economy and a constantly shifting landscape of health care policy.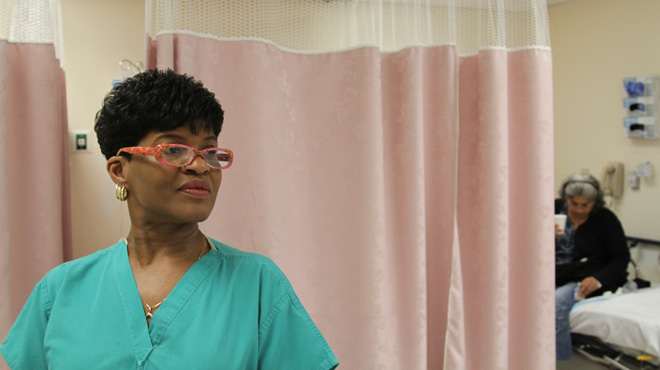 Series

Independent Lens

Premiere Date

October 21, 2013

Length

90 minutes

Funding Initiative

Open Call
Diversity Development Fund
Nominated
2013 News and Documentary Emmy Awards-Outstanding Editing: Documentary and Long Form
Award
2012 Full Frame Documentary Film Festival-Charles E. Guggenheim Emerging Artist Award
Award
2012 Silverdocs-Special U.S. Feature Jury Mention
Award
2012 SFFilm Festival-Golden Gate Award
Award
2013 Independent Spirit Awards-Truer Than Fiction Award
Nominated
2012 Ashland Independent Film Festival-Best Documentary Runner Up
Director/Producer
Pete
Nicks
Peter Nicks is an Emmy Award-winning shooter/director known for his courageous cinema vérité style. He directed/produced The Waiting Room, which was released theatrically in 2012 to critical acclaim, shortlisted for an Oscar and won numerous awards including the Truer Than Fiction Independent Spirit award. Nicks is a 2015 United States Artist Fellow… Show more in the midst of his trilogy of timely, immersive films exploring the interconnected narratives of health care, criminal justice and education in Oakland, CA. Show less
Producer
Linda
Davis
Linda Davis is an Emmy-nominated filmmaker who produced The Waiting Room (Independent Lens), a vérité portrait of a day in the life at a public hospital in Oakland, California, which received critical recognition and an Independent Spirit Award nomination for best documentary. She also produced The Kill Team (also Independent Lens), about a soldier in… Show more Afghanistan who attempted to report war crimes committed by his platoon, which won Best Documentary Feature at Tribeca in 2013 and was nominated for an Emmy for Outstanding Investigative Journalism. Her experience includes work on several feature-length documentaries, including The Rape of Europa and Jon Else's Wonders Are Many: The Making of Doctor Atomic. Show less
We fund untold stories for public media.
Learn more about funding opportunities with ITVS.
The Film
Highland Hospital, a vital part of the city of Oakland, California and the surrounding county, is stretched to the breaking point. It is the primary care facility for 250,000 patients of nearly every nationality, race, and religion, with 250 patients crowding its emergency room every day.The Waiting Room is an immersive documentary film that weaves together several stories that unfold in surprising ways in the ER waiting room. It is an intimate rendering of the story of our health care system at a moment of great change told through the eyes of people stuck — sometimes for up to 14 hours — in the waiting room. The film tells the story of a remarkably diverse population – as well as the hospital staff charged with caring for them – battling their way through the seismic shifts in the nation's health care system, while weathering the storm of a national recession. It is a film about one hospital, its multifaceted community, and how our common vulnerability to illness binds us together as humans.
In a purposefully fragmented style, the film will follow young victims of gun violence, artists and small business owners who lack insurance, steel workers, taxi cab drivers and international asylum seekers, as well as the young doctors, nurses and hospital executives struggling to keep the hospital running smoothly.
With the swelling ranks of the uninsured exerting unprecedented pressure on public hospitals, the state budget crisis undermining social service and medical funding, and the current health care reform package threatening to gut public hospitals, Highland faces extinction. Meanwhile, it's just another day in waiting room.
Topics