Art & Copy
The real Mad Men (and women!) are the people behind the curtain of modern consumer culture.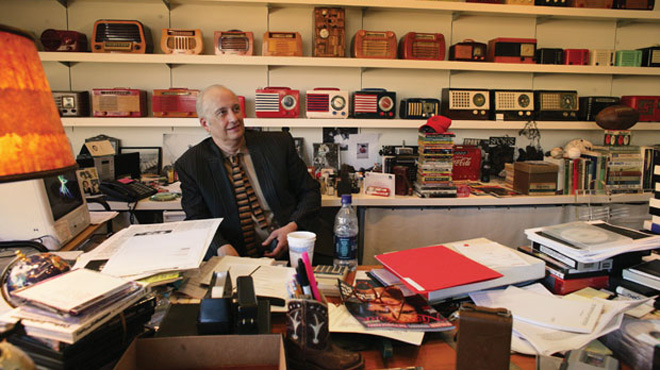 Series

Independent Lens

Premiere Date

May 4, 2010

Length

90 minutes
Award
2010 News and Documentary Emmy Awards-Outstanding Arts and Culture Programming
Director
Doug Pray
Filmmaker Doug Pray has directed a number of highly acclaimed feature-length documentary films about American subcultures and maverick characters. His best-known film, Surfwise, premiered at the Toronto Film Festival and was released in theaters nationwide by Magnolia Pictures. Doug's first film was Hype!, a candid look at the emergence and… Show more explosion of the Seattle rock music scene, featuring Nirvana, Pearl Jam, and Soundgarden. The movie premiered at the 1996 Sundance Film Festival and is ranked #14 by Rolling Stone Magazine in its "Top 25 Music DVDs of All Time." Staying in the genre of music docs, Doug's second feature, Scratch, also premiered at the Sundance Film Festival and was nominated for an IFP Independent Spirit Award in 2002. Past films also include Big Rig, about long-haul truck drivers; Infamy, about a few of America's most notorious graffiti artists; and Red Diaper Baby, a feature-length performance film of Josh Kornbluth's hysterical and emotional stage monologue for the Sundance Channel. In between his documentary productions, Doug has directed numerous commercials and award-winning advocacy campaigns, including an HIV-AIDS awareness project which won an Emmy In 2006. Pray received an MFA from UCLA's Graduate School of Film and Television. He has served on the documentary juries of the Sundance, Silverdocs, AFI Fest, AFI Dallas, and SXSW Film Festivals, and is a member of the Directors Guild of America and the Academy of Motion Picture Arts & Sciences. Show less
We fund untold stories for public media.
Learn more about funding opportunities with ITVS.
The Film
You may thank (or curse) the creative people in Art & Copy for such familiarly evocative slogans as "Just Do It," "I ♥ NY," "Where's the Beef?" "Got Milk?" "Think Different," and brilliant campaigns for everything from cars to presidents. Love them or loathe them, they have mastered the art of persuasion through hard work and seemingly boundless creativity.Art & Copy reveals the work and wisdom of some of the most influential advertising creatives of our time — people who've profoundly impacted our culture, yet are virtually unknown outside their industry. Exploding forth from advertising's "creative revolution" of the 1960s, these artists and writers all brought a surprisingly rebellious spirit to their work in a business more often associated with mediocrity or manipulation: George Lois, Mary Wells, Dan Wieden, Lee Clow, Hal Riney and others featured led the way in the advertising revolution. They managed to grab the attention of millions and truly move them. Visually interwoven with their stories, TV satellites are launched, billboards are erected, and the social and cultural impact of their ads is brought to light in this exploration of art, commerce, and human emotion.
Topics