A Day's Work, a Day's Pay
Three people on public assistance fight for a just and effective welfare-to-work system.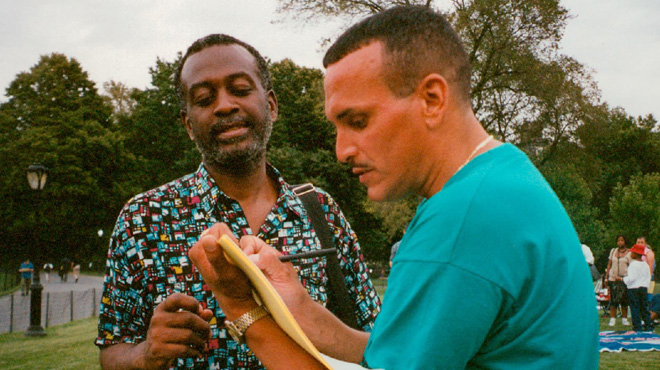 Premiere Date

April 1, 2002

Length

60 minutes

Funding Initiative

Series and Special Projects
Award
2001 World Hunger Year-Harry Chapin Media Award for excellence in coverage of poverty-related issues
Producer
Katherine Leichter
Kathy Leichter is a documentary film producer, media activist, and one of the founders of Mint Leaf Productions. Kathy recently co-produced and co-directed the award-winning PBS documentary, A Day's Work, A Day's Pay, about three welfare recipients who become leaders in the fight against workfare in New York City. Currently she is the executive… Show more director of The Workfare Media Initiative, a media activism project which trains current and former welfare recipients to show A Day's Work, A Day's Pay to community organizations, unions, students, communities of faith, policymakers, and others. Kathy was the producer of the VSM Productions' Mothers and Daughters: Mirrors that Bind, a documentary about the impact of the mother/daughter relationship on a woman's body, sexuality, and self-esteem, which is being used by women's and girls organizations and universities across the country. Formerly she worked at WQED, the Pittsburgh PBS station, where she associate produced several social issue documentaries. Kathy serves on the Workers Rights Board of Jobs With Justice and is on the Advisory Board of several independent documentary projects. She is currently developing a film about her grandmother, an Austrian immigrant and renowned family therapist who lived to be 92. Kathy is the mother of Otto Justice Leichter Moran. Show less
Producer
Jonathan Skurnik
Jonathan Skurnik has produced, directed, and shot numerous award-winning documentaries and has recently completed his first two fiction films as writer/director. His three most recent documentaries include: The Elevator Operator, a documentary about a Ukrainian immigrant who runs a manual elevator in Manhattan. It has screened at the Museum of… Show more Modern Art in New York, won Best Documentary at the Urban TV film festival in Madrid and had its broadcast premiere on PBS and Ukrainian TV; the award-winning Spit It Out which is being broadcast on PBS in 2007; and A Day's Work, A Day's Pay which won the prestigious Harry Chapin award for films about hunger and poverty and was broadcast on PBS and in Europe in 2002. Jonathan is currently producing Something's Moving, a documentary about survivors of American Indian boarding schools and he's directing Ice Music, a high definition documentary about a winter Ice Music festival in Norway. Show less
We fund untold stories for public media.
Learn more about funding opportunities with ITVS.
The Film
A Day's Work, a Day's Pay follows three welfare recipients in New York City from 1997 to 2000 as they participate in the largest welfare-to-work program in the nation. When forced to work at city jobs for well below the prevailing wage and deprived of the chance to go to school, these individuals decide to fight back, demanding programs that will actually help them move off of welfare and into jobs.
Topics