Every Day Is a Holiday
A war veteran and P.O.W. takes a complicated path to U.S. citizenship, made more dramatic by his daughter's discovery of his wartime diary.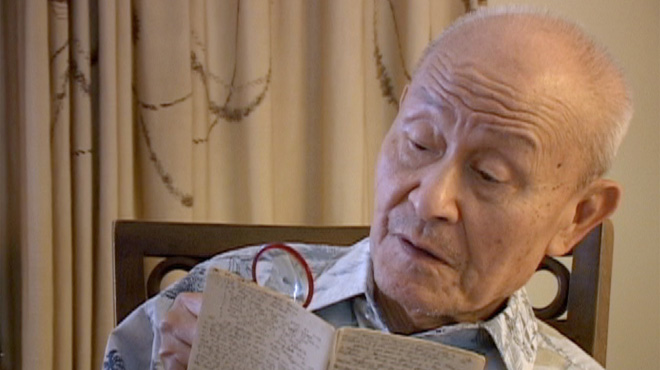 Premiere Date

May 1, 2012

Length

60 minutes

Funding Initiative

Open Call
Producer/Director
Theresa Loong
Theresa Loong is a filmmaker and interactive media professional whose work has been exhibited at the Teriennale di Milano and Circulo de Bellas Artes. She served as an associate producer on the public television film So Very Far from Home and as a researcher for the PBS documentary China Now: To Get Rich Is Glorious. Loong specializes in the editorial and… Show more strategic development of integrated media projects. She has worked with American Movie Classics, Sing for Hope, The New York Times, Milestone Films, New York Magazine, Architecture for Humanity, and Time Warner. Show less
Executive Producer
Bill Einreinhofer
Three time Emmy Award-Winner Bill Einreinhofer was the creative force behind Innovation, the long running PBS science and technology series. He has developed projects for 60 Minutes (CBS), The NewsHour with Jim Lehrer (PBS), the Discovery Channel, HBO and Good Morning, America (ABC). In addition, he was formerly an Executive Producer at WNET in New… Show more York. Bill has had extensive production experience in China, having produced, directed and written the one-hour PBS documentary China Now: To Get Rich Is Glorious. He directed So Very Far From Home, a documentary profiling American children who were sent to internment camps in Japanese-occupied China during World War II, and Beyond Beijing, a four-part international travel series keyed to the 2008 Beijing Olympics, seen by an estimated 250+ million viewers in 49 countries. Bill has won two CINE Golden Eagles, a CINDY, a Gold Medal at the International Film & Television Festival of New York, a Telly Award and a Silver Hugo at the Chicago International Film Festival. He is also an Adjunct Professor in the Communications Department of Felician College. Show less
We fund untold stories for public media.
Learn more about funding opportunities with ITVS.
The Film
Growing up, filmmaker Theresa Loong knew that her father, Paul Loong, was older than most of her friends' parents. Father and daughter are almost 50 years apart in age. Throughout her youth and young adulthood, Theresa recalls a cheerful father who loved to laugh and play pranks on his kids. But underneath all that laughter, he would show occasional flashes of anger and sadness.
One day young Theresa asked him innocently about a curious scar on his back. "Everyone has secrets," he would say.
She knew this much: His road to becoming an American citizen was anything but direct. As a Chinese Malaysian teenager serving in the British Royal Air Force, he spent three years at hard labor as a prisoner of war in Japan. But it wasn't until Theresa uncovered a hidden diary her father kept while imprisoned, that she uncovered other family secrets.
At 88 years old, Paul is commemorating his 66th year of freedom. The film draws upon his experiences to explore contemporary issues of war, immigration, and national identity. It celebrates the freedom that comes with confronting the past and facing the future with resilience, forgiveness, and love.
Topics