Mariachi High
Witness a year in the life of top-ranked members of Zapata High School's championship mariachi ensemble on the Rio Grande in South Texas.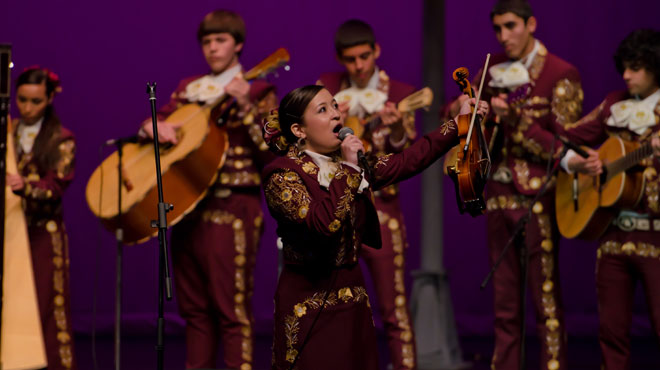 Premiere Date

June 29, 2012

Length

60 minutes

Funding Initiative

Series and Special Projects
Director
Ilana Trachtman
Ilana Trachtman is an Emmy award-winning documentary and children's television producer based in Philadelphia. She has produced and directed nonfiction programs in both English and Spanish for PBS, HBO Family, ABC-TV, Showtime, Sundance Channel, Lifetime, Discovery, Trio, A&E, Thirteen/WNET, The Biography Channel, and Sesame Workshop. She… Show more directed an episode of Henry Louis Gates's landmark series for PBS, Black in Latin America. Ilana also served as the Supervising Producer on PBS's long-running History Detectives and on the Sundance Channel's critically acclaimed series Big Ideas for a Small Planet. Other favorite projects include directing Texas Ranch House, the PBS reality/documentary series set in 1867; Our Heroes, Ourselves (Lifetime), an award-winning documentary special about grassroots women heroes; Biography: Sylvia Plath, and 24 w/, a stylized "day in the life" series following pop culture icons. Trachtman's independent feature documentary, Praying with Lior (2008), was released theatrically in more than 60 cities in the US and abroad by First Run Features. The film received 6 Audience Awards for Best Documentary, the Grand Prix at the International Disability Film Festival in Moscow, and was a critic's pick of the New York Times, New York Magazine, The Washington Post, and Philadelphia Inquirer. Show less
Director
Kim Connell
Kim Connell is an award-winning documentary filmmaker and president of Rainlake Productions. Her recent films include the theatrically-released feature documentary Four Seasons Lodge (First Run Features), about the vibrant lives of elderly Holocaust survivors, broadcast on PBS stations in 2011; and Crossing Arizona (Sundance Channel, The Cinema… Show more Guild), an up-to-the-minute look at illegal immigration at its hottest point along the Mexico-Sonora border that premiered at the 2006 Sundance Film Festival, has won six festival awards and screened around the world. After four years on DVD, Crossing Arizona continues to be one of the most popular titles available to educators from The Cinema Guild. Show less
Executive Producer
Kelly Sheehan
Kelly Sheehan guides the development, production, distribution, and marketing efforts for independent feature documentaries. Recent films include Four Seasons Lodge, released theatrically and on DVD in 2009 by First Run Features and broadcast on PBS stations in 2011; Crossing Arizona, which premiered in competition at the 2006 Sundance Film… Show more Festival and was broadcast on Sundance Channel; and Follow My Voice With The Music of Hedwig, produced in association with Sundance Channel and featuring John Cameron Mitchell, Yoko Ono, Rufus Wainwright, and many others. Working with director Nathaniel Kahn, Sheehan also developed the Academy Award-nominated feature documentary My Architect, released by New Yorker Films and HBO. Show less
We fund untold stories for public media.
Learn more about funding opportunities with ITVS.
The Film
Mariachi High presents a year in the life of top-ranked members of Zapata High School's championship mariachi ensemble on the Rio Grande in South Texas.
At a time when the Latino dropout rate is the highest of any group nationwide, intolerance toward immigrants (and perceived immigrants) is growing, and public school funding is being cut, these teens continue to pursue excellence through a connection to their cultural heritage.
Beginning with high-stakes band auditions, through competitions like the San Antonio Mariachi Vargas Extravaganza, and ultimately graduation, the students discover their own unique voices and an appreciation for the richness of a heritage they are learning to embrace.
Topics