Mimi and Dona
After six decades of caring for her daughter Dona, who has an intellectual disability, 92-year-old Mimi must find Dona a new home.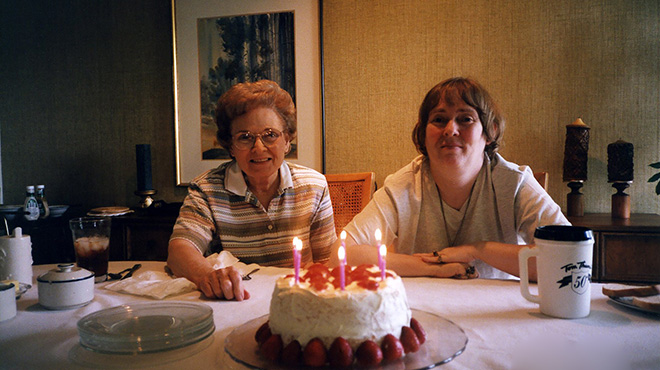 Series

Independent Lens

Premiere Date

November 23, 2015

Length

60 minutes

Funding Initiative

Open Call
Producer/Director
Sophie Sartain
An award-winning writer for print, film, television and digital media, Sophie Sartain's credits include the 2012 documentary Hava Nagila (The Movie) (writer/producer), the 2014 documentary Above and Beyond (writer), and the 2008 film Blessed Is the Match: The Life and Death of Hannah Senesh (writer/co-producer). Sartain's past positions include… Show more Executive Director of Editorial Services for MGM Home Entertainment and Managing Editor of Sony Online Entertainment. She has contributed as a writer on several film and media projects, including In the Matter of Cha Jung Hee (PBS/POV) and The Rich in America (A&E). As a grant writer, she has raised more than $1 million for documentary projects. In 2011, her grant proposal for a PBS documentary on photographer Dorothea Lange was awarded a prestigious NEH production grant. As a freelance writer, her clients have included Los Angeles Magazine, 20th Century Fox Home Entertainment, Sony Pictures Home Entertainment, Universal Studios, New Line Home Entertainment, CBS Sports Radio, and ABC Radio Networks. Show less
We fund untold stories for public media.
Learn more about funding opportunities with ITVS.
The Film
An estimated 4.6 million Americans have an intellectual or developmental disability. These individuals are living longer than ever before. And more than 75% of them live at home with family. What happens when aging family members can no longer care for them? Mimi and Dona explores this issue through the intimate story of a quirky and fiercely devoted mother-daughter duo. Since her husband died in 1968, Mimi Thornton has lived with her daughter Dona in a suburban home in Dallas. Dona has an intellectual disability and probably some undiagnosed autism. Over the years, Mimi and Dona have carved out a happy life for themselves — one filled with errands, church, weekly visits to the beauty parlor, and nightly doses of Wheel of Fortune. However, Mimi and Dona's symbiotic existence is about to end. At age 92, Mimi can no longer care for Dona; and at age 64, Dona is about to take the biggest step of her life — she's leaving home to live in an assisted living facility.
Topics