Where Heaven Meets Hell
Four sulfur miners working at an active volcano in Indonesia search for meaning in their daily struggles and triumphs.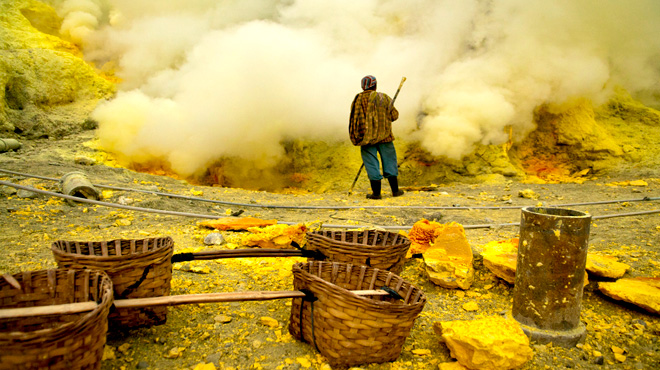 Series

Global Voices

Premiere Date

June 2, 2013

Length

60 minutes

Funding Initiative

Open Call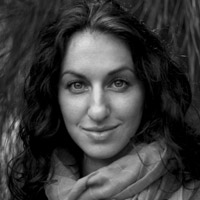 Producer/Director
Sasha Friedlander
Sasha Friedlander is a filmmaker based in Brooklyn, New York. Sasha completed her BA from UCLA in 2007, and received her MFA in Social Documentary Film from the School of Visual Arts in New York in 2011. After UCLA, Sasha received a Darmasiswa Fellowship to study at the Indonesian Art Institute in Bali. While in Indonesia, Sasha began an internship at Bali TV,… Show more and because of her fluency in the Indonesian language, was asked to join a team of journalists from the BBC and the Bali Post to launch the first edition of the International Bali Post. Inspired by a brief trip she took to Kawah Ijen crater in East Java in 2009, she returned to Indonesia a year later, to produce Where Heaven Meets Hell, her first feature documentary film. Where Heaven Meets Hell has won numerous awards including the Grand Jury Prize for Best Feature Documentary Film and a Special Jury award for Outstanding Cinematography at the Los Angeles Asian Pacific Film Festival, and the Halekulani Golden Orchid Award for Best Documentary Feature at the Hawaii International Film Festival. At the One World International Human Rights Film Festival in Prague, the Václav Havel Jury gave a Special Mention Award to the film for being a documentary that has made an exceptional contribution to the defense of human rights. The Alliance of Women Film Journalists (AWFJ) awarded Friedlander with an EDA Award for Documentary Artistry at the Salem Film Festival in March 2013. Show less
Co-Producer
Bao Nguyen
Bao Nguyen is an emerging photographer and filmmaker whose clients have included The New York Times, Rolling Stone, MTV, Vogue, HBO, ARTE, PBS, among many others. He has directed, produced, and shot a number of short films, which have played internationally in numerous festivals and museums including MoMA PS1 and the Smithsonian. His graduate thesis… Show more film, Julian, won a CINE Golden Eagle Award, the Best Student Documentary Short at the Palm Springs ShortsFest, the Special Jury Prize at DOCNYC, and was nominated for an IDA Award. The first feature he produced, Once in a Lullaby, made its world premiere at the 2012 Tribeca Film Festival, won the Audience Award at Woodstock, and was nominated for a Gotham Independent Film Award. He is producing his first feature narrative, 2030, a futuristic film set in Vietnam after the impact of climate change. It won the 2013 Tribeca Sloan Filmmaker Award. He is also directing his first feature documentary about the Vietnamese LGBT community and the pending same sex marriage legislation in Vietnam. He is a 2011 PBS/WGBH Producers Workshop Fellow and an alumnus of the 2012 Berlinale Talent Campus. He earned his BA in Politics/International Relations at NYU and his MFA in Social Documentary Film at the School of Visual Arts in New York City. He is based in Saigon. Show less
We fund untold stories for public media.
Learn more about funding opportunities with ITVS.
The Film
Where Heaven Meets Hell follows the lives of three of the nearly 500 sulfur miners working in Kawah Ijen, a spectacular active volcano in Indonesia. Sulfur is a vital component in the production of sugar, rubber, cosmetics, and matches — products used worldwide. The mining process, however, is grueling and extremely dangerous. Several times a day the miners haul loads of nearly 200 pounds along a treacherous 2.5-mile path, while engulfed in billowing clouds of toxic sulfur dioxide gases.
This intimate portrait chronicles their attempts to escape the endemic poverty, and lack of education that haunts their community. Drawing strength from their families and their Muslim faith, the miners search for meaning in their daily struggles and triumphs.
The film is a study of endurance and the sustaining power of faith, love, and family through desperate times; universal themes that resonate throughout the world today. Each character weaves their own unique story, as Where Heaven Meets Hell draws us into their world and paints a moving portrait of the hardships they face. It highlights the humanity, humor, and commonalities shared by people and workers everywhere, while shedding a light on a little known corner of the globe.
Topics